Beachy shows positive signs after shaky start
Beachy shows positive signs after shaky start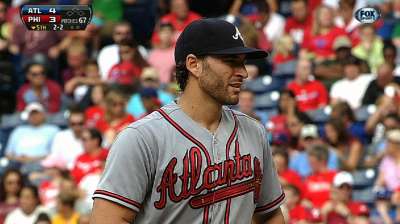 PHILADELPHIA -- As Braves manager Fredi Gonzalez watched Brandon Beachy progress through the first two innings of Saturday's game against the Phillies, he saw a pitcher dealing with the seemingly inevitable struggles experienced during the early stages of returning from Tommy John elbow reconstruction surgery.
But as Beachy cruised through the next four innings, he provided himself and the Braves some confidence that he has already made significant progress.
"He can tell you at what point it turned [Saturday], but I saw two different guys," Gonzalez said. "If you would have walked in during the third inning and watched him, you would have said that's the same guy I saw pitch a year ago. The first couple [innings], you saw a guy that was just struggling with everything."
When Beachy surrendered hits to three of the first four hitters he faced in the second and spotted Philadelphia an early 3-0 lead, he looked much like he had while struggling through 3 2/3 innings against the Rockies on Monday, during his first start back from the major surgical procedure he underwent last year.
But as he entered the seventh having retired 14 of the previous 16 batters he faced, Beachy looked more like he had while posting a Major League-best 2.00 ERA before being sidelined last year. The most significant difference is that he does not yet have enough confidence in his surgically repaired elbow to consistently command the slider that he relied heavily on in the past.
Beachy threw 19 sliders during his ugly outing against the Rockies and just two during Saturday's 95-pitch performance against the Philadelphia. After hanging a slider that John Mayberry sent into the left-field seats in the second, Beachy proved that his changeup and curveball are also effective secondary pitches.
"His curveball and his changeup are plus-plus pitches," Gonzalez said.
Mark Bowman is a reporter for MLB.com. This story was not subject to the approval of Major League Baseball or its clubs.