Tigers call up Bonderman to join bullpen
Tigers call up Bonderman to join bullpen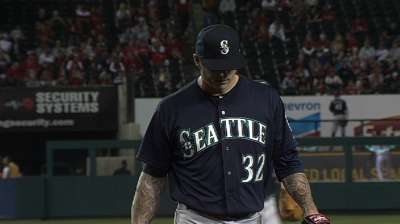 DETROIT -- Two months after Jeremy Bonderman made it back to the big leagues, he has made it back with the Tigers. It won't be in his old role, but with a chance to get back to the postseason with his old club, he'll take it.
The Tigers announced after Sunday's win that they're purchasing Bonderman's contract from Triple-A Toledo. He'll join the team in Cleveland on Monday to fill the long relief spot in the bullpen held by Evan Reed, who was optioned to Toledo.
Whenever he gets into a game -- the way Detroit's starters are pitching lately, innings have been tough to find for most of Detroit's supporting relievers -- it'll be Bonderman's first appearance in a Tigers uniform since Oct. 1, 2010. He has had Tommy John surgery, a year of retirement, a year of injury rehab and a comeback with the Seattle Mariners since then.
This makes it a homecoming.
"We were trying to get another veteran arm with our big league club," team president/general manager Dave Dombrowski said.
This one comes with a history. Ten years after Bonderman broke into the big leagues with Detroit as a 20-year-old rookie starter, beginning an eight-year stint in the organization, he's back as a veteran reliever.
Bonderman signed a Minor League deal with the Tigers last month after he was designated for assignment in Seattle, where he went 1-3 with a 4.93 ERA in seven starts. He had some strong starts in June before struggling his last couple outings.
The Tigers planned on using him as a starter in Toledo, but he asked to pitch in relief, knowing it was the one way he could get back to Detroit barring an injury in the rotation. He thrived in a middle relief role from the first moment, delivering 9 2/3 scoreless innings on three hits over seven appearances with no walks and five strikeouts.
The Mud Hens stretched him out as a test on Monday and Thursday, and he responded with 4 2/3 scoreless innings combined on two hits.
"He's pitched very well," Dombrowski said. "He has consistently thrown strikes. His velocity has been solid. He's had good movement. His slider has been good. He's actually thrown some changeups. He's quicker to the plate than he used to be. He's done a lot of good things for us."
Reed, a 27-year-old rookie, had delivered 5 2/3 scoreless innings over his last four outings, but team officials opted for experience in the role.
"Reed did nothing wrong. He pitched very, very well for us," Dombrowski said. "But really, it's more a matter to trying to get a veteran arm to pitch a few innings for us."
It wasn't an easy call for Reed, who was clearly surprised by the decision.
"It's tough," said Reed, who replaced injured Darin Downs as Detroit's long reliever July 7. "You just pitch as good as you can every chance you get."
Jason Beck is a reporter for MLB.com. Read Beck's Blog and follow him on Twitter @beckjason. This story was not subject to the approval of Major League Baseball or its clubs.