Blue Jays' late rally brings relief in Anaheim
Blue Jays' late rally brings relief in Anaheim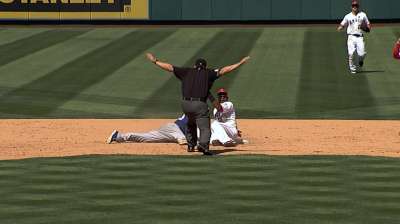 ANAHEIM -- The Blue Jays have an opportunity to salvage their lengthy road trip through the West Coast, and some clutch production from the heart of the batting order is the main reason for it.
Toronto was in serious danger of being swept out of Anaheim but a late-inning rally against a struggling Angels bullpen helped change all of that.
Jose Bautista and Edwin Encarnacion had a pair of RBI singles as the Blue Jays rallied from a one-run deficit in the top of the ninth to snatch a game from Los Angeles with a 6-5 victory on Sunday afternoon.
"It was just big that we won the game, we needed that desperately," said relieved Blue Jays manager John Gibbons. "We were down for most of the game and we got some big hits late. It was a much-needed win."
The Blue Jays were on their way to a fourth consecutive loss until the eighth inning. Toronto entered trailing by three but began to chip away at the Angels bullpen, which ranks 13th in the American League with a 4.17 ERA and had three walk-off losses last week in Texas.
The Angels could have escaped the eighth on two separate occasions but failed to turn a pair of grounders for potential double plays as two runs scored. The first came on Encarnacion's fielder's choice and another scored on Maicer Izturis' pinch-hit RBI single.
That put Toronto within striking distance in the ninth and Angels closer Ernesto Frieri didn't do himself any favors by allowing the first two batters of the inning to reach base. With one out, Angels manager Mike Scioscia called on reliever Dane De La Rosa, but after Rajai Davis grounded out, the Blue Jays came through when it mattered most.
Bautista tied the game with a two-out single to left and Encarnacion quickly followed with an almost identical hit. Seemingly out of nowhere, the Blue Jays pulled out a surprising victory that should make a lengthy flight to Seattle a bit more bearable.
Despite the heroics, Bautista was quick to dismiss that this victory had any type of added significance.
"I think we need to focus on one game at a time," said Bautista, who went 3-for-5 with a pair of RBIs. "You can't really look at the games that we already lost. If you start doing that, you'll start pressing more and thinking that win is a must, and more often than not you're not going to get the good results that you should get. I'm just happy and glad we got it done today."
The late-inning rally helped overshadow a rough outing by Blue Jays left-hander Mark Buehrle, who surrendered a pair of home runs with most of the damage occurring in a four-run fourth inning.
Buehrle entered the game having not allowed an earned run in his past 20 innings but that was snapped in the first when outfielder Mike Trout hit a solo shot to left.
In the fourth, Buehrle surrendered a three-run shot to first baseman Mark Trumbo. Trumbo's 25th homer of the season came on an 0-2 pitch and was sent deep over the wall in left field.
Buehrle allowed another run in the fourth on an RBI double by Chris Iannetta. Toronto's veteran hurler continued on through the sixth and was charged with all five of the runs on seven hits, two walks and four strikeouts.
"I felt too good and I think that was a result of missing location," said Buehrle, who now has a 4.41 ERA. "When I feel good, I feel like I try to overthrow the ball more than I should, instead of worrying about just hitting location.
"You don't feel good very often, so when you do, you want to just throw as hard as you can instead of just taking a couple of miles an hour off and trying to hit spots. I get caught up in velocity and trying to throw as hard as I can with everything. I felt too good, missed a lot of spots, and they made me pay for it today."
Even though the Blue Jays escaped with a win, it's clear the performance of their starting rotation will have to improve in order to have any type of prolonged success during the final two months of the season. Toronto's starters finished the four-game series in Anaheim having allowed 22 runs in just 17 innings.
Help is on the way with left-hander J.A. Happ expected to be activated from the disabled list in the coming days, but the recent performance leaves a lot to be desired and has put a lot of stress on the bullpen.
The win did help the Blue Jays improve to 3-4 on their 10-game road trip through Oakland, Anaheim and Seattle. Toronto will attempt to keep the momentum from Sunday going against the Mariners, but it won't be an easy task considering Hisashi Iwakuma and Felix Hernandez are both scheduled to pitch for Seattle.
"It's very important for us because we need to keep doing it, start winning games like this so we can wake up," Encarnacion said of Sunday's comeback.
"Now we can go to Seattle, new series, and start strong again."
Gregor Chisholm is a reporter for MLB.com. Read his blog, North of the Border, and follow him on Twitter @gregorMLB. This story was not subject to the approval of Major League Baseball or its clubs.