Venable on a hot streak in middle of Padres' lineup
Venable on a hot streak in middle of Padres' lineup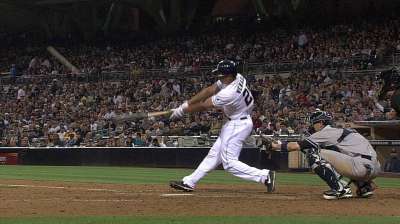 SAN DIEGO -- Will Venable's solo home run in the eighth inning of Friday's 7-2 victory over the Yankees was his 13th of the season -- matching a career high set in 2010.
Venable has found himself stationed in the middle of the Padres' batting order this weekend. On Saturday, he started a game in the cleanup spot for the first time in his career, and he hit fifth on Sunday. Some of that has to do with the knee injury that has hampered Carlos Quentin and kept him out of the lineup, but Venable is also on a bit of a hot streak.
He was hitting .375 over his last 15 games entering Sunday dating back to July 14. He also plays better at Petco Park, as 10 of his 13 home runs this season have come here.
Padres hitting coach Phil Plantier helped Venable make an adjustment in his batting stance to get his hands a little higher and farther away from his left shoulder. And while the Padres are excited about his power, they are also glad to see his batting average improving.
"Will's got that potential for the long ball," said Padres manager Bud Black. "He's trying to re-create the same swing he's taken all year. The average isn't where we want it to be, but it's climbing."
Entering Sunday's game, Venable was hitting .245, and he was tied for the team high in home runs to go along with 35 RBIs. He's on pace to hit 18 homers.
Venable has struggled at times this year and his average dipped to as low as .220, so the Padres are hoping for him to play consistently for the rest of the season.
"With Will, you've got to smooth out the ups and downs," said Black. "He's been pretty good as opposed to past years."
Jamal Collier is an associate reporter for MLB.com. This story was not subject to the approval of Major League Baseball or its clubs.