LA extends road streak, but loses Hanley
LA extends road streak, but loses Hanley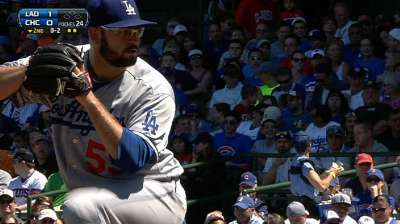 CHICAGO -- When the Dodgers left Wrigley Field on Sunday, Hanley Ramirez's right arm was in a sling, Matt Kemp's left ankle was in a boot, Yasiel Puig was still nursing a bruised left thumb and it looked like an audition for a Fife and Drum Corps.
In fact, there even was a Fife -- spot starter Stephen Fife -- who pitched 5 1/3 scoreless innings in the Dodgers' 1-0 win over the Cubs. The victory extended Los Angeles' franchise-record road win streak to 14 games.
The road win streak is the longest in the National League in 56 years (the NL record is 17 by the 1916 New York Giants). It improved the Dodgers to 14-2 since the All-Star break and 31-7 since June 21. The Dodgers pulled off a five-game sweep at Wrigley Field in 1988, but this was their first four-game sweep in Chicago since 1954.
"We feel with our team on the road that we're underdogs," said A.J. Ellis, who singled home the game's only run, one of only two Dodgers hits. "It's 25 guys versus the whole stadium to beat. On the road we seem to come together well."
Well enough for 14 straight wins, but the celebration this time was muted because of the injury Ramirez sustained while falling awkwardly into the stands after catching a wind-blown popup in the seventh inning.
He'll have an MRI on Monday in St. Louis. Ramirez and manager Don Mattingly expressed guarded optimism that the injury won't be as devastating as it looked when Ramirez came off the field clutching his right shoulder with his left arm.
While the ranks of position players were thinned out, the game allowed the Dodgers to show off their embarrassment of pitching riches in Fife, who is their sixth starter. He was activated off the disabled list, where he had been because of shoulder bursitis and because the Major League club didn't need him with the acquisition of Ricky Nolasco and Chris Capuano's return to fine form.
But with a stretch of 16 consecutive games and having the luxury to do it, the club inserted Fife into the rotation to give the other five starters an extra day of rest. A secondary motivation was to have Zack Greinke pitch in St. Louis for the upcoming series instead of Capuano, who has had little success against the Cardinals.
Fife, No. 9 on the rotation depth chart coming out of Spring Training, allowed seven hits with five strikeouts in a peculiar role he seems to relish. In nine starts, he is 4-3 with a 2.47 ERA. Only three of those starts have been on a regular four days' rest.
"Any role is fine with me," said Fife, who wasn't "fully aware" he was starting Sunday until Saturday morning, although he had a good idea earlier in the week when his bullpen session was switched a day.
Mattingly has said he would not stick with six starters, so Fife is likely going to be sent back to Triple-A Albuquerque despite another successful outing.
Fife was supported by a lone RBI single from Ellis and more scoreless relief from the deepest bullpen the Dodgers have had in a while.
Kenley Jansen continued his remarkable run with three more strikeouts in a perfect ninth for his 17th save and third of this series. He's retired 25 consecutive batters, 13 with strikeouts. Trying to rest Ronald Belisario, Paco Rodriguez and Brandon League, Mattingly got to Jansen with 1 2/3 innings from Chris Withrow and one inning from J.P. Howell.
"They've been a big part of our run," Ellis said of the bullpen. "The pitching in this stretch has been amazing, especially the guys in the bullpen."
Withrow's appearance was remarkable in that he was brought in with one out in the sixth inning and the bases loaded. Until this season, Withrow had been known for a live-but-wild arm. He was shifted to the bullpen last year, but had never been brought into a game with the bases loaded at any level until Sunday, when he got Donnie Murphy to pop out and pinch-hitter Cole Gillespie to ground out.
"It does portray a little that they trust putting me in those situations, and that feels good," said Withrow. "In past years, no one would have ever thought of doing something like that."
The only run scored in a strange second inning. Ramirez was annoyed with Cubs pitcher Carlos Villanueva for pitching inside during a walk, set down his bat on the plate after ball four and former Dodgers catcher Dioner Navarro broke it.
"I don't know what that was about," said Ramirez.
When Ramirez reached first base, somebody in the Dodgers' dugout said something and Villanueva came off the mound, took several steps toward the dugout and stopped, while plate umpire Jerry Layne admonished the Dodgers dugout.
Andre Ethier then walked and Ellis singled to center, scoring Ramirez as center fielder David DeJesus stumbled and fell before he could throw home. It was the first of the Dodgers' two hits.
"The fact is, it doesn't matter what anybody says, they're playing probably the best baseball out there right now," said Villanueva.
Puig, who bruised his left thumb making a diving catch on Saturday, was in the on-deck circle when the top of the ninth inning ended for the Dodgers, but Mattingly said he would have been bunting for a hit and not swinging if he came to the plate.
Ken Gurnick is a reporter for MLB.com. This story was not subject to the approval of Major League Baseball or its clubs.