Villanueva strong, but Cubs blanked again by Dodgers
Villanueva strong, but Cubs blanked again by Dodgers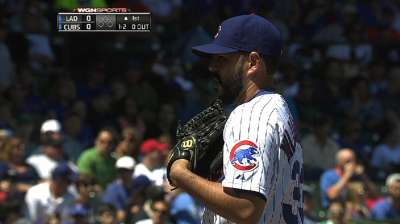 CHICAGO -- Despite holding the hottest team in baseball to just two hits, the Cubs couldn't find a way to beat the Dodgers on Sunday afternoon.
Carlos Villanueva pitched six strong innings and allowed just one run on two hits, but the offense was shut out for the second straight game in a 1-0 loss at Wrigley Field. The loss closed out a 1-7 homestand for the Cubs as the Dodgers won their franchise-record 14th consecutive road game and 31st of their last 38 games overall.
Villanueva said his well-pitched outing was no consolation after his club was swept by the Dodgers in a four-game set at Wrigley Field for the first time since a five-game sweep from July 14-18, 1988.
"What's going to make me feel good is if we win," the right-hander said. "You can't really take the individual [accomplishment]. The individuals [are] for the agents and fans and whoever cares about the numbers that way. For us it's more about the wins."
Villanueva is now winless in his last 11 starts despite notching his seventh quality start of the season.
"He did a great job," Cubs manager Dale Sveum said of Villanueva's outing. "He got through six. The pitch count was up a little bit but he did a great job again, so it was nice."
The Cubs couldn't solve Stephen Fife, who made a start to give Zack Greinke and the rest of the Dodgers' rotation an extra day's rest. But when they did have opportunities to score, they continued to come up empty with runners in scoring position.
The Cubs' best chance came in the sixth when three singles -- including the first Major League hit for second baseman Logan Watkins -- loaded the bases with one out for Donnie Murphy against reliever Chris Withrow. Murphy, who was called up from Triple-A Iowa on Saturday, popped out to short and pinch-hitter Cole Gillespie grounded out to first.
"We didn't have a whole lot going on [offensively], but that was obviously a chance, bases loaded with one out, and we didn't get the job done again," Sveum said. " ... We got shut out three times in seven games at home. We scored two in another one. So it's very difficult, obviously, to win unless you're scoring runs."
The Cubs put men in scoring position in four of the first six innings but couldn't get the clutch hit they needed, going 1-for-7 in that spot on the afternoon. The only hit was the single by Watkins that Dioner Navarro couldn't score on from second.
Anthony Rizzo, who went 1-for-4 with a single, expressed frustration that the Cubs outhit the Dodgers for the second time in the series yet failed to come away with a single run.
"It's pretty annoying, to be honest," Rizzo said. "We probably outhit them today by quite a bit, right? Not scoring runs is ... we just have to figure it out and keep going."
The game's only run came in the second when Hanley Ramirez and Andre Ethier walked to open the inning and Ramirez scored on A.J. Ellis' single to center. Ramirez left the game in the seventh after tumbling over the wall down the left-field line catching a popup. He was holding his right shoulder as he departed.
"I don't think so," Ramirez said when asked about whether he might go on the disabled list. "I don't think negative stuff, I don't think the DL. ... I was just really mad. The way we're playing now everybody is happy and we can't afford to have somebody gone. That's what I'm thinking about -- the team, not myself."
Villanueva said that the game was an example of two teams just going in different directions at the moment.
"Right now they're doing all the right things and, not only are they doing the right things, but they get the breaks," Villanueva said. "You know, when a team's hot they get the breaks. It feels like, if you're a little bit down like we are [and] you hit the ball down the line, it's an inch foul. And if it's the team that's hot, it's an inch fair."
Sveum said his club is in need of a break, and an off-day on Monday before a six-game road trip to Philadelphia and St. Louis couldn't come at a better time following 17 games in 16 days.
"It definitely comes at a good time," Sveum said. "[We can] give the bullpen a break and obviously guys kick back and reflect and get a mental break, too. Obviously the last seven days haven't been that fun."
Manny Randhawa is an associate reporter for MLB.com. Follow him on Twitter at @MannyBal9. This story was not subject to the approval of Major League Baseball or its clubs.