Kazmir, Tribe cap series win in Miami with shutout
Kazmir, Tribe cap series win in Miami with shutout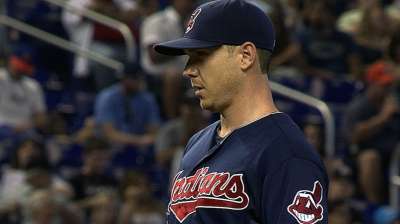 MIAMI -- Scott Kazmir peered in at the sign from his catcher, looking for a way to finish off Marlins slugger Giancarlo Stanton in the sixth inning on Sunday. With the count full, and a couple of fastballs already fouled off, the Indians lefty unleashed a changeup that dove away from Stanton's swing.
Under pressure, Kazmir remained under control.
The same can be said of the Indians, who took care of business at Marlins Park with a 2-0 victory that sealed a series win of the three-game Interleague set. A contending club such as Cleveland is supposed to handle last-place teams such as Miami, and following a drubbing in the series opener, the Tribe did precisely that over the past two days.
"We knew what we had to do," Indians left fielder Michael Brantley said. "We had to try to win the series. They took the first one out from under our feet. Our goal was to come out and win the next two, and we did it."
Now, Cleveland (62-49) returns home for a crucial four-game clash with the American League Central-leading Tigers, with first place on the line. Detroit also won on Sunday, stretching its winning streak to eight in a row and keeping the second-place Indians' deficit to three games in the standings.
Needless to say, the next four days could loom large for the rest of the Indians' summer.
"It'll be high intensity," Kazmir said with a smile. "I think we're ready for it. We feel like we're in a good spot, so we'll see what happens."
Kazmir (7-4) continued his career renaissance with a stellar six-inning showing for the Indians, who have won 15 of their past 20 games. The left-hander held the Marlins (43-67) to two hits in his time on the hill, finishing with seven strikeouts and only one walk. For good measure, Kazmir contributed a single in the batter's box, too.
The lefty's performance, combined with three strong innings from the bullpen -- which included a clean ninth inning that helped closer Chris Perez notch his 17th save of the year -- pushed Cleveland to its Major League-leading 15th shutout of the season. It also represents the most shutouts in a single season for the Indians since they spun 17 in 1976.
"I'm thrilled," manager Terry Francona said of the shutouts. "I wish it was 30."
The franchise record is 26, set in 1948, which was a pretty good year for the Tribe.
Kazmir's performance was just the latest in a growing list of strong outings this season from the lefty, who has trimmed his season ERA to 3.89 from 5.89 over his past nine outings. During that span, Kazmir has gone 4-0 with a 1.93 ERA and a 0.86 WHIP (walks plus hits per innings pitched), while holding hitters to a .173 (34-for-197) average.
"He's been pretty good," Francona said. "He's worked hard to not only maintain, but to answer the bell whenever he pitches. It's been fun to watch."
Kazmir benefited from a handful of sound defensive plays -- none more impressive than the pickoff play turned in during the third inning.
After Jeff Mathis drew a leadoff walk for the Marlins, Miami pitcher Nathan Eovaldi squared around to bunt. First baseman Mark Reynolds charged in, but Eovaldi did not get the bunt down and Mathis strayed too far from the bag. Indians catcher Yan Gomes received the ball and fired it up the line, where second baseman Jason Kipnis had sprinted behind Mathis to cover first base.
In one motion, Kipnis caught the relay and turned, applying the tag on a sliding Mathis before yelling in celebration.
"Yan was heads-up," Kazmir said. "He went straight for it, and Kipnis was there to receive the throw. That was awesome. It was a great play."
It proved key, considering how few baserunners Miami managed on the afternoon against Kazmir.
In the first inning, Ed Lucas collected a ground-rule double -- the ball rolled under the left-field wall -- but Kazmir then breezed through the next 16 Marlins batters he faced without relinquishing a hit. That streak ended with Christian Yelich reached with a one-out single in the sixth. The lefty followed by striking out Lucas and Stanton to escape unscathed.
"He had good fastball command," Marlins manager Mike Redmond said. "We swung at a lot of pitches. We came out aggressive. We didn't hit a lot of balls hard, but we came out aggressive. He moved the ball in and out like he always has, and he pitched. He pitched well. We just never got anything going."
Kazmir did not require much in the way of run support, and that was good, because Cleveland struggled to solve the hard-throwing Eovaldi.
While hitting triple-digits on the radar gun at multiple turns, Eovaldi held the Indians to one run despite scattering seven hits in his seven innings. The Tribe's only breakthrough against the starter came in the second inning, when the team pieced together three straight hits off the right-hander. That burst culminated in an RBI single to right field off the bat of Lonnie Chisenhall.
In the eighth inning, Brantley provided a key insurance run with a run-scoring single with two outs against reliever Chad Qualls.
"Brantley had a big hit to give us that extra run," Francona said.
The win improved Cleveland's record to 34-14 this season against teams with a sub-.500 record. That is the mark of a good team: winning the games it is supposed to win. For the Indians to reach their ultimate goal of reaching the postseason, the club will need to start performing better against opponents that boast a winning record.
The Tribe will have that chance when the Tigers come to town.
"The way our guys have played, every series is big," Francona said. "But this makes it really exciting. We get to play the best team in our division and see how we can do."
Jordan Bastian is a reporter for MLB.com. Read his blog, Major League Bastian, and follow him on Twitter @MLBastian. This story was not subject to the approval of Major League Baseball or its clubs.