Astros come up short in Peacock's strong return
Astros come up short in Peacock's strong return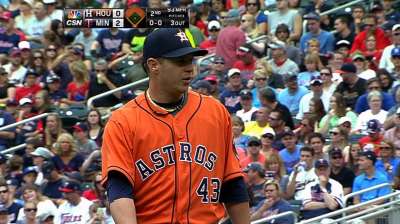 MINNEAPOLIS -- Brad Peacock was back in the Major Leagues on Sunday afternoon and pitching with more conviction and confidence than the last time we saw him in the Astros' rotation, during the first month of the season.
Peacock, called up after making a good impression over 13 starts at Triple-A Oklahoma City, turned in the best start of his career by throwing a career-high seven innings and striking out a career-high 10 batters in a 3-2 loss to the Twins.
"It feels good to get a good one out there, and I battled through the whole game and made a couple of bad pitches and paid for it," Peacock said.
All three runs the Twins scored were the product of home runs when Peacock fell behind in the count and grooved a fastball. Justin Morneau hit a two-run shot in the first inning, and Oswaldo Arcia had a solo blast in the seventh to break a 2-2 tie.
"Peacock did a tremendous job of pounding the zone," Astros manager Bo Porter said. "I thought his breaking ball was outstanding today, and it was unfortunate the two long balls wound up being the difference in the game. I thought he competed today and did a great job."
Despite the strong effort, the Astros were swept in three games in their first visit to Target Field and finished 2-8 on their 10-game road trip. It was their 11th time this season being swept.
Peacock's performance was a huge boon to an Astros team that has made a few changes in the rotation in the last week following the trade of ace Bud Norris. Lefty Brett Oberholtzer, who threw seven scoreless innings Wednesday in his first Major League start, will face the Red Sox on Monday in Houston.
Houston starters have posted a 3.07 ERA in the team's last seven games, allowing 33 hits and striking out 35 batters in 44 innings.
"The more good pitching we can get, the better," Porter said. "Obie did a great job when we gave him the ball, Brad did a great job today giving us an opportunity to win and it's good to see those guys come up here and continue to have success."
Peacock figures to remain in the rotation as well after Sunday's showing, where he allowed three runs and four hits and threw 117 pitches. It was the most pitches he had thrown in a game since tossing 104 with Oklahoma City on May 8.
"He definitely has made some improvements and took advantage of his time down in OKC," Astros catcher Jason Castro said. "It was really good to see. He was pounding the strike zone, locating the ball for the most part pretty well. There were a couple of mistakes here and there. He did outstanding and has developed a slider he was throwing early in the year. He was really able to kind of keep guys on their toes. The strikeouts showed, and his stuff is definitely there."
The improved slider came as a surprise to Twins manager Ron Gardenhire.
"Their young man really threw the ball well, also," he said. "We'd seen fastball and curveball and changeup, and today he had a really nice slider that was something we hadn't seen much on video. His slider was nasty. I think you saw a lot of guys swinging over the ball, and that was a nice performance by him."
Peacock gave up a two-run home run in the first to Morneau that followed a two-out walk to Joe Mauer, putting the Twins ahead, 2-0. The Astros tied the game in the fifth on back-to-back RBI singles by Brett Wallace and Chris Carter, who entered the game in a 3-for-38 funk.
Arcia broke the tie when he started the seventh inning with a homer that put Minnesota ahead, 3-2. The Astros managed little against Minnesota's bullpen for the entire series, being held to six hits and one run and striking out 20 times in 17 innings.
"Their bullpen did a tremendous job all three games," Porter said. "If you look at the outcome, you pretty much can say their bullpen sealed the deal each and every time they had an opportunity to come in and shut us down."
Peacock made the rotation out of Spring Training and struggled before being moved to the bullpen and eventually sent down. He was 6-2 with a 2.73 ERA in 14 games (13 starts) with the RedHawks after going 1-3 with an 8.44 ERA in five starts with the Astros earlier this year.
With the 25-year-old Peacock, Oberholtzer (24), Jarred Cosart (23) and Jordan Lyles (22) currently in the rotation with veteran Erik Bedard, the Astros have to be encouraged about their young arms.
"There's even more guys coming behind them that could fill out the other spots," Castro said. "So I'm really happy with where we're at. Guys are definitely using their time to build on and learn things, so it's good to see."
Brian McTaggart is a reporter for MLB.com and writes an MLBlog, Tag's Lines. Follow @brianmctaggart on Twitter. This story was not subject to the approval of Major League Baseball or its clubs.