Twins power past Astros with two homers
Twins power past Astros with two homers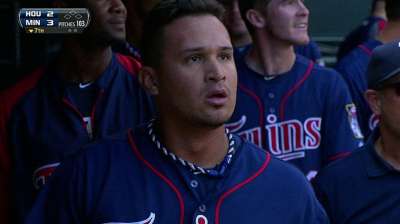 MINNEAPOLIS -- The offense managed only five hits, and the starter lasted just five innings, but the Twins still found a way to finish off a sweep of the Houston Astros on Sunday.
Oswaldo Arcia hit a tiebreaking home run leading off the seventh inning, and the Twins' bullpen once again saved the day in a 3-2 win at Target Field.
Arcia ripped a letter-high, full-count fastball from Astros starter Brad Peacock 395 feet to right, just clearing the wall above the out-of-town scoreboard for his seventh homer of the year and first since his recall from Triple-A Rochester on Thursday.
"I knew I hit it pretty good, but I didn't know if it was going out, so I was running hard out of the box, thinking about trying to get to third if it didn't," Arcia said through an interpreter after the game.
In his first at-bat, Arcia struck out for the fifth time in three games, and Peacock retired him on a grounder in his second plate appearance. But the rookie from Venezuela adjusted his approach the third time through the order with much better results.
"Pretty much the whole game he'd been throwing me away," Arcia said. "In my last at-bat I learned from my first two and tried to sneak up on the plate a little bit. I got something out over the plate, and I was able to drive it."
Caleb Thielbar (2-1) picked up the win, one of four Twins relievers to shut down the Astros after a sluggish start from Mike Pelfrey. Jared Burton pitched a perfect eighth inning, and closer Glen Perkins saved his 27th game in 30 chances. In the three-game series against Houston, the Twins' bullpen worked 17 innings and allowed just one run, earning all three victories.
"Their bullpen did a tremendous job all three games," Astros manager Bo Porter said. "If you look at the outcome, you pretty much can say their bullpen sealed the deal each and every time they had an opportunity to come in and shut us down. They did a good job all three games."
Pelfrey allowed just two runs over five innings, but he was done for the day after throwing 104 pitches to get those 15 outs. He now has just one victory in his last 14 starts, a streak dating back to May 10.
"I'm glad we won, but overall my day wasn't good," Pelfrey said. "I made two starts this homestand, and I threw nine innings total, which is terrible. ... They definitely needed more innings today out of the starter, and I wasn't able to do it, which is unfortunate."
The Astros had two runners on with one out in both the second and third innings before Pelfrey escaped trouble, but a two-out walk to Jason Castro in the fifth led to consecutive RBI singles by Brett Wallace and Chris Carter to knot the game at 2.
"He's able to get ahead of guys, but he just starts picking too much, and you end up with 3-2 counts," Twins manager Ron Gardenhire said of Pelfrey's approach. "You need to get people to swing. It looks like he's trying to strike everybody out rather than put the ball in play. With his stuff right now, as much as it was moving, all he's got to do is make them swing the bat, and he'll last into the games a little bit longer."
The Twins drew first blood when Justin Morneau launched his 10th homer of the season into the flower beds in right-center field to put the home team on top, 2-0, in the first inning. Morneau jumped on a 2-1 fastball from Peacock and drove it 390 feet, tying him with Josh Willingham and Trevor Plouffe for the team lead in home runs.
"Everything looked so free and easy on that swing," Gardenhire said. "The bat came through nice and easy, he released his hands and got the ball out front and there you have it -- in the seats."
After that rough start, Peacock settled down quickly. He struck out the next four batters after Morneau's home run and held the Twins to just two singles before Arcia's home run leading off the seventh. Peacock ended up striking out a career-high 10 batters over seven innings.
Still, Gardenhire was happy his team found a way to finish off the sweep after dropping three straight to Kansas City to start the six-game homestand.
"To come back and end up .500 after losing three was important to this baseball team," Gardenhire said. "You have to get on a roll. We're going back to Kansas City now, and we know what they can do, so it's going to be a tough series down there, and hopefully we'll have a little payback for them."
Patrick Donnelly is a contributor to MLB.com. This story was not subject to the approval of Major League Baseball or its clubs.