Kennedy victorious in Padres debut, tops Yanks
Kennedy victorious in Padres debut, tops Yanks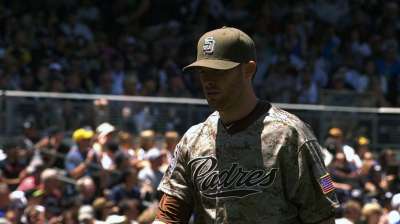 SAN DIEGO -- After Sunday's game, Ian Kennedy said with a wide smile on his face that he was just glad to get this first start out of the way.
It's been a wild couple of days for Kennedy since the D-backs traded him to the Padres before Wednesday's non-waiver Trade Deadline.
He started for the D-backs on Tuesday, was surprised to be traded on Wednesday and then had to adjust to the shock of a new team and uniform, which he admitted was a little different to see himself in the first time he put it on.
Kennedy was solid in his first career start for the Padres, and he got plenty of support from his offense in a 6-3 victory over the Yankees in front of 43,504 fans at Petco Park.
His first start with his new team came against one of his former teams, the Yankees, from whom he was traded to the D-backs in a three-team deal in December 2009.
Kennedy was having a down year with Arizona, posting a 3-8 record and a 5.23 ERA, so he viewed this trade as an opportunity for a fresh start.
"For anybody a different prospective from the manager, different angle from the video guys helps," he said. "I like it."
To add to the pressure, Kennedy, born in Southern California, guessed he had at least 25 family members -- and possibly more -- in attendance.
He was carried by adrenaline through the first five innings and flummoxed the Yankees' offense, but he admitted he ran out of gas by the sixth.
"Anytime you come to a new team, there's emotion and there's quite a bit of adrenaline," said Padres manager Bud Black. "I think he probably tired a little quicker than what you'll see in the future."
He got a lot of help from the Padres' offense, which got to Yankees starter Phil Hughes early.
The Padres scored three times in the second inning, highlighted by a two-run single off the bat of shortstop Everth Cabrera, who tied his career high with 31 RBIs on the season.
They tacked on two more in the third, with a sacrifice fly from Chris Denorfia and an RBI single off the bat of Mark Kotsay chasing Hughes from the game.
Hughes (4-10) has lost eight of his past 10 decisions since May 15. His struggles continued when he allowed five runs on six hits and three walks and left the game after 2 2/3 innings.
"It's been like a nightmare I can't wake up from," Hughes said. "It's like a battle every time, even if I have a good start. It's not easy."
The Padres tacked on another run after Hughes left when Chase Headley's RBI single off Preston Claiborne drove home Cabrera to make the score 6-0.
Kennedy held the Yankees' offense scoreless with just two hits through the first five innings by mixing his fastball with frequent changeups and breaking balls.
But the Yankees broke through for two runs in the sixth, after Kennedy allowed a pair of two-out walks followed by back-to-back singles.
"More of just getting under pitches, letting the good pitches get away from me and missing more than I was early on," Kennedy said about that inning.
He exited the game after surrendering two runs in 5 2/3 innings with four walks and six strikeouts and left a good impression on his manager.
"I liked what I saw," Black said. "I told him, 'That's going to be one of many wins for the Padres.'"
It was Kennedy's (4-8) first victory since June 1 against the Cubs.
In the seventh, Austin Romine hit his first career home run off Padres reliever Dale Thayer to make the score 6-3.
Then the Padres' bullpen shut down the Yankees, and Huston Street worked a scoreless ninth for his 21st save in 22 opportunities.
Street has now thrown 10 straight scoreless innings, allowing just five hits with two walks and 12 strikeouts in that span.
With the win, the Padres (52-60) clinched their fourth consecutive series victory for the first time all season and are now 4-2 on this current eight-game homestand.
This series was the Yankees' (57-53) first visit to Petco Park, and the three games drew a combined 131,812 fans, making it the second-most attended three-game series in the ballpark's history, trailing only a three-game set with the Red Sox in 2007.
"That's the Yankees," Kennedy said. "You can feel the energy."
Jamal Collier is an associate reporter for MLB.com. This story was not subject to the approval of Major League Baseball or its clubs.