Sox edged in extras as slide reaches 10 games
Sox edged in extras as slide reaches 10 games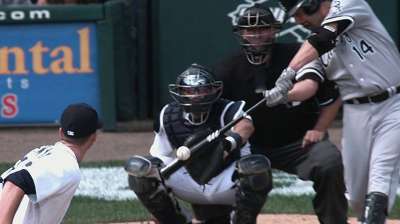 DETROIT -- Seven losses during seven played in Cleveland and this past weekend in Detroit, marking the first winless White Sox road trip of seven games or more in franchise history per Elias.
Three of those losses were of the walk-off variety, with two coming via homers from the Indians' Jason Giambi and Carlos Santana, and the third courtesy of Torii Hunter's 12th-inning single off of Dylan Axelrod in Sunday's 3-2 setback before 42,315 at Comerica Park.
And of these seven losses, the team with the fewest runs scored in the American League pushed across more than two on only two occasions. Even for a team sitting at 40-69 overall and with an elimination number of 30 in early August, this past week was tough for the White Sox to stomach.
"There are not too many people in here, myself included, that have experience with what's happening here," said White Sox captain Paul Konerko of the team's 10th straight setback overall. "I was never on a team like this and a lot of the guys are the same way.
"We are just trying to get through and you just try to do the best you can at the moments you are in there playing and making decisions to do stuff. That's it. There are not a lot of positives. You have to try to find them as best you can personally and as a team."
Let's try to find the positives coming from Sunday.
Konerko's eighth homer, coming in the ninth inning against reliever Drew Smyly, erased a 2-1 Detroit lead and represented his eighth homer of 2013 and No. 430 overall. It was Konerko's first long ball since June 20 in Minnesota.
Adam Dunn finished with four hits, raising his average to .226, including a 462-foot homer leading off the fourth against Tigers starter Rick Porcello. Dunn joined Miguel Cabrera and Eric Munson as the only players to reach the center-field shrubbery or ivy in the ballpark's history.
Chicago's defense was outstanding, with Gordon Beckham saving a run in the eighth on an over-the-shoulder sliding catch on Prince Fielder's blooper with Andy Dirks on second. In the 11th, Jordan Danks' running catch of Jhonny Peralta's line shot to left-center with Victor Martinez on first and nobody out temporarily saved the game.
Don't forget rookie hurler Andre Rienzo, who extended his consecutive innings streak to 13 without allowing an earned run. His unblemished stretch ended in the seventh, when he walked Martinez and Peralta to start the frame and they both came around to score to give Detroit (64-45) a 2-1 advantage.
Although Rienzo turned in a quality start, he was not happy with that bout of wildness.
"Need to work more for my next one so that kind of mistake don't happen again," said Rienzo, who allowed two runs on four hits over six-plus, while striking out three. "It's not about me, it about the team. I helped the team with six innings. Next time I hope to have more."
Then, there was the plethora of unattractive form the White Sox offense and baserunning.
Alexei Ramirez reached base via a one-out single in the first against Porcello and then tried to steal second with Alex Rios at the plate. The problem was that Ramirez broke before Porcello had delivered the pitch and was tagged out in a rundown.
Rios and Dunn followed with singles and Konerko walked to load the bases with two outs. But Conor Gillaspie popped out to Peralta to end the inning.
Four baserunners, no runs for a team that has scored four times in its last 40 innings.
"You got to be able to push them across the plate if you're going to win," White Sox manager Robin Ventura said. "We had them on the ropes early. The last time we faced them was the same way. You got to be able to get to them early and add on. We weren't able to."
Alejandro De Aza opened the eighth with a double over Don Kelly's head against Porcello and was bunted to third by Ramirez. Rios followed with a sinking line drive to center that looked as if it might fall before Austin Jackson raced in and grabbed it. But instead of tagging up at third, De Aza was three or four steps down the line and couldn't score.
That near miss was joined by Tyler Flowers in the 10th, after Flowers walked against reliever Jose Veras and was bunted to second by De Aza. Flowers took off on Ramirez's flare into left-center, only to have Peralta make a nice running catch and easily double him off of second.
"The one with Flow, you got to try and go. If he's halfway, he can still double him up," Ventura said. "You're taking a chance and reading it. The other, you're going off the bat. It's similar to the one I think Rios had last time [against the Royals]. Going off the bat and it's a line drive and try to make it back."
Detroit used a little bit of dramatics to pull this one out, with Cabrera and his bad hip singling as a pinch-hitter against Axelrod (3-8) to lead off the 12th. Pinch-runner Matt Tuiasosopo scored on Hunter's single, sending the White Sox home with their first 10-game losing streak since June 11-20, 1976.
"I thought they were going to pitch around me to get me to chase," Hunter said. "I was just waiting for a strike, and he just threw it right there and I just capitalized on it."
Scott Merkin is a reporter for MLB.com. Read his blog, Merk's Works, and follow him on Twitter @scottmerkin. This story was not subject to the approval of Major League Baseball or its clubs.