Tigers walk off in finale on Hunter's RBI knock
Tigers walk off in finale on Hunter's RBI knock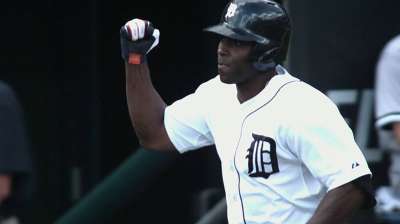 DETROIT -- Torii Hunter was supposed to have the day off to rest. Instead, he delivered a pinch-hit single in the 10th inning and a game-winning single in the 12th to give the Tigers a 3-2 victory over the White Sox on Sunday afternoon at Comerica Park to complete a three-game sweep.
The Tigers have an eight-game winning streak after winning all eight games on their latest homestand, improving to a season-high 19 games above .500. It's the third time that Detroit has swept the White Sox in the last four series at Comerica Park.
"You look at this ballclub, all cylinders are clicking," Hunter said. "The starting pitchers are having quality starts, our bullpen is coming in and getting the job done, timely hitting and our defense looks good."
Miguel Cabrera, who has missed the last three games, came on to pinch-hit to lead off the 12th inning. Cabrera drilled a fastball up the middle for a single, and then Matt Tuiasosopo pinch-ran for him.
"It's unbelievable. He hasn't seen a live pitch in I don't know how many days, and gets a base hit up the middle," Tigers starter Rick Porcello said.
Austin Jackson then put down a sacrifice bunt to move Tuiasosopo to second base, and Tuiasosopo scored on the single from Hunter that dropped into left-center.
"I thought they were going to pitch around me to get me to chase [a pitch outside of the strike zone]," Hunter said. "I was just waiting for a strike, and he just threw it right there and I just capitalized on it."
The White Sox had three hits and a walk in the first inning, but they were unable to score a run.
In the fourth, Adam Dunn drilled a 92-mph fastball for a solo home run to dead center field, giving Chicago a 1-0 lead. It was the first home run allowed by a Tigers pitcher since July 25.
However, it was the only damage done against Porcello, who allowed one earned run on eight hits in 7 2/3 innings in a no-decision. Tigers starting pitchers have recorded a quality start in 15 of the last 18 games. Some of that success can be attributed to solid defensive play in the last week, capped by some diving plays by Jose Iglesias at third base.
"I'd say the last couple of days, I thought our infield defense was absolutely unbelievable," manager Jim Leyland said. "[Ramon] Santiago, [Jhonny] Peralta and [Jose] Iglesias, they were absolutely terrific. It was like a clinic today."
The Tigers answered in the seventh after drawing two walks to begin the frame. Alex Avila hit a ball to right-center that scored Victor Martinez from second base. Two batters later, Santiago scored Peralta on a sacrifice fly to give Detroit a 2-1 lead.
"2-0 [count], I was just looking for a fastball, got it and was able to hit it in the right spot," Avila said.
Alejandro De Aza led off the eighth inning with a ground-rule double to right field and advanced to third on a sacrifice bunt. Alex Rios then smashed a line drive to center field, but De Aza was unable to tag. Drew Smyly relieved Porcello to strike out Dunn and end the threat.
"You got to be able to push them across the plate if you're going to win," White Sox manager Robin Ventura said. "We had them on the ropes early. The last time we faced them was the same way. You got to be able to get to them early and add on. We weren't able to."
Paul Konerko, however, was able to get the best of Smyly with a home run to left-center to lead off the ninth inning and tie the game at 2. It was the first run allowed by Smyly since June 26, which spanned 13 outings.
"I was just thinking about hitting the ball hard up the middle," Konerko said. "Nothing like a homer or anything. Just trying to be ready because I know he has a good arm but he's also kind of sneaky."
Said Smyly: "I looked at it on video. Couldn't be in a better spot, but he turned it around. There's nothing you can do about it. That's why he's such a great hitter. Cap call to him."
Jose Veras replaced Smyly after the home run and pitched two scoreless innings before Bruce Rondon came on in the 11th inning. Rondon struck out three in two innings and earned his first Major League win.
The Tigers have allowed only 10 runs during their eight-game winning streak. Next up is a four-game series against the Indians, who are three games back in the division.
"We pitched well, that's for sure and we were able to win some games," Porcello said. "We want to keep that going obviously, that's not something that should stop now. We need to keep pitching well, Cleveland's right behind us, we need to keep winning games."
Bobby Nightengale is an associate reporter for MLB.com. This story was not subject to the approval of Major League Baseball or its clubs.