Dominant 'pen, timely hitting key to Rays' win
Dominant 'pen, timely hitting key to Rays' win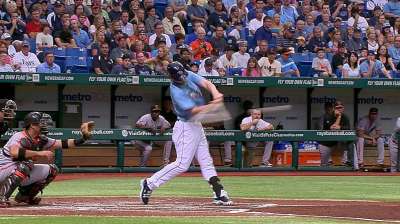 ST. PETERSBURG -- The formula is not always the same, but somehow, the Rays keep stringing wins together.
Take Sunday's 4-3 win over the defending World Series champion San Francisco Giants, for example. A starter failed to pitch deep into the game -- a rare occurrence for the Rays -- as Roberto Hernandez could not get out of the fifth inning.
Not a problem.
Manager Joe Maddon handed the ball to his bullpen with a one-run deficit. A collection of four relievers allowed just two baserunners, giving the Rays' offense the chance to edge back into the game.
"The bullpen is going to be the best in the American League, and I think they're getting close to that right now," Maddon said.
Sam Fuld led off the bottom of the fifth with a walk and a stolen base. Two outs later, Evan Longoria stepped to the plate mired in an 0-for-19 slump.
Longoria delivered with a sharp single to left field to tie the score at 2. Upon reaching first base, Longoria let out a sigh of relief and tipped his helmet to Tropicana Field's second sellout crowd of the season.
"I think I had hit rock bottom," Longoria said. "This is the worst that I've been in a long time. I've gone through slumps before, but swinging and missing was baffling me. It was a tip of the cap to everybody and a good feeling."
An inning later, it was Fuld's turn to come through when he lined a two-out single to right field, scoring Yunel Escobar, who had also led off the sixth with a walk.
San Francisco's pitching staff issued three leadoff walks Sunday, a trend manager Bruce Bochy does not like to see.
"It's been many of the staff," he said. "For some reason, we've walked too many leadoff guys, and it's come back to haunt us."
Fuld, not an everyday outfielder, got the call Sunday when it was clear that Desmond Jennings' sprained left middle finger would not permit him to play.
"When you're in the situation I'm in, you try to take advantage of any opportunity you get," Fuld said. "You hate to see teammates go down with any sort of injury, but it's nice to know I can step in. I'm not going to try to do what Des does, but I'm going to try to contribute however I can."
Left-hander Alex Torres was the bridge from Hernandez to the back end of Tampa Bay's bullpen. Since being recalled from Triple-A Durham on June 1, Torres has allowed just one earned run.
"His stuff really plays well on both sides, and when you have relief pitchers that can do that, it really saves a lot of brain cells from a manager's perspective," Maddon said.
With the victory, the Rays won the three-game series. They have not lost a series since June 19 and have now won 25 of their last 31 games.
The Rays offense does not often erupt, but it has been doing just enough lately. Since the All-Star break, six of the Rays 11 wins have been by one run.
"We would rather pad our lead a little more, but that's the sign of a good team," Fuld said. "We're not always going to be rolling offensively, but we know we can slump a little offensively because of the way our bullpen has been rolling."
Hernandez started the game by giving up a run on three first-inning hits. Buster Posey's single up the middle scored Marco Scutaro to put the Giants on the board.
"Not my best day today," Hernandez said. "I didn't have my best stuff. I tried to keep the ball down, but it didn't move a lot today."
Wil Myers, the hero of Saturday's walk-off win, clobbered a two-run home run to left field in the bottom of the first to put the Rays on top.
While Longoria has been slumping, Myers has been nothing but consistent.
"Wil has really done a nice job, and again in this low-key manner that he does things," Maddon said. "He's not overwhelmed. He just plays the game of baseball."
The Giants reclaimed the lead in the fourth when Brandon Crawford hit a two-run triple to right-center field. Crawford accounted for five of the Giants' eight RBIs in the series.
Sam Strong is an associate reporter for MLB.com. This story was not subject to the approval of Major League Baseball or its clubs.