After loss, Bochy looking for new leadoff man
After loss, Bochy looking for new leadoff man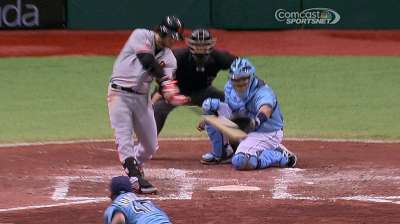 ST. PETERSBURG -- The Giants intend to make changes where changes often are most effective: at the top. The top of the batting order, that is.
Manager Bruce Bochy announced after Sunday's 4-3 loss to the Tampa Bay Rays that San Francisco is likely to have a new leadoff hitter as soon as Monday -- either second baseman Marco Scutaro or right fielder Hunter Pence.
That's hardly the Giants' most pressing problem. They've been plagued by various flaws at different junctures this season. But the offense, which struggled monumentally before the Giants' two-city trip, improved only marginally as the team finished 3-3 against Philadelphia and Tampa Bay. Aside from last Wednesday's nine-run outburst at Philadelphia, the Giants continued to lurch toward a seemingly inevitable sub-.500 finish, scoring three runs or fewer in four of the games.
Outfielders Gregor Blanco and Andres Torres, the Giants' pair of leadoff hitters, have not galvanized the offense. Since the All-Star break, Blanco's batting .077 (3-for-39) with one run scored; Torres' average is .182 (6-for-33) with four runs.
Entering Sunday, Giants leadoff hitters actually ranked around the middle of the pack in runs scored -- eighth, with 63. But they were 11th in batting average (.250), 12th in on-base percentage (.310) and 13th in slugging (.342) and on-base-plus-slugging percentage (.652). The respective league averages in those categories were .262, .327, .387 and .716.
Torres scored in each of his first two plate appearances in last Tuesday's series opener at Philadelphia. Afterward, neither he nor Blanco crossed home plate during this trip.
"We're not getting any production from our leadoff hitters. They're going through a tough time," Bochy said.
Coincidentally, almost exactly a year ago -- Aug. 3 -- the Giants returned Angel Pagan to the leadoff spot. He began the season there before occupying mostly the fifth and sixth spots through May, June and July. With Pagan at leadoff, the Giants charged through the rest of the season toward the World Series crown.
Now that the Giants reside in the National League West cellar and Pagan's recovering from hamstring surgery, Bochy's impending switch will probably lack last year's dramatic effect. But with 52 games left, the Giants insist on trying to finish as strong as possible.
Scutaro, San Francisco's No. 2 hitter, actually has more experience batting leadoff (359 starts) than any other position in the order. For instance, he hit exclusively first in 144 games for Toronto in 2009, batting .282 with career highs in home runs (12) and walks (90).
"No matter where I hit, I stay with my approach," Scutaro said.
Between the Giants' pair of leadoff candidates, Pence possesses greater momentum. He's batting .393 (24-for-61) since the All-Star break, ranking him among the Major League leaders in that category.
With 15 steals in as many attempts, Pence also could spark the Giants on the basepaths. "It could be something to have me hitting in front of Scutaro, Pablo [Sandoval] and Buster [Posey]," said Pence, who has led off 32 times in his career. "I'm kind of an aggressive swinger. Maybe I can set a little bit of a tone. I'm definitely open to it."
The Giants could use a boost, given the disappointment they encountered as this trip concluded. They won three of the first four games, then dropped a pair of one-run decisions at Tropicana Field, with their pitchers surrendering runs during each of the five innings in which they issued a leadoff walk.
"That's been an issue all year," Bochy said, referring to the Giants' NL-high total of 87 leadoff walks. The final transgression occurred in Sunday's sixth inning. With the score tied, 3-3, Giants reliever Jose Mijares walked Yunel Escobar. Matt Joyce flied out before Jose Molina chopped a high comebacker that enabled Escobar to reach second base. Up came Sam Fuld, who sent Escobar home by singling to right field on an 0-1 pitch.
Taking Barry Zito's spot in the starting rotation -- at least until Ryan Vogelsong leaves the disabled list -- Guillermo Moscoso worked 4 2/3 innings, yielding three runs and four hits while walking four. Moscoso's biggest mistake was a hanging 79-mph curveball he threw in the first inning to Wil Myers, who belted a two-run homer. In fact, Tampa Bay scored all of its runs on two-out hits -- including Evan Longoria's fifth-inning RBI single off Moscoso, breaking the All-Star third baseman's 0-for-19 skid.
Brandon Crawford lined a two-run, fourth-inning triple for the Giants, who out-hit the Rays, 9-6. But such contributions were exceptions for the reigning World Series champions, who helped draw only the season's second sellout crowd, 34,078, to Tropicana Field.
"We got our hits today," Bochy said. "Just not enough at the right time."
Chris Haft is a reporter for MLB.com. This story was not subject to the approval of Major League Baseball or its clubs.