Royals ride balanced attack to series win in NY
Royals ride balanced attack to series win in NY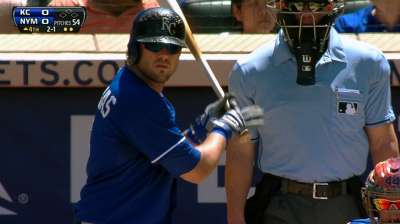 NEW YORK -- Home is where the heart is, but the Royals developed a real fondness for the road on this last trip.
A 6-2 victory over the New York Mets on Sunday sent the Royals flying back to Kansas City after winning eight of nine games on their excursion through Chicago, Minnesota and the Big Apple. The only loss came in the series opener at New York.
The 8-1 record marked the best trip of nine or more games in franchise history, and that goes back to 1969.
"That's very good, so put it in the book," said winning pitcher Ervin Santana. "We're going to keep rolling."
The Royals, who left home with a 48-51 record, returned four games over .500 at 56-52 following their 11th win in the last 12 games. Kansas City is 7 1/2 games behind first-place Detroit in the American League Central and 4 1/2 games out in the race for a Wild Card spot.
"We ended before the All-Star Game on a bad note, and we knew we had to pick it up and we had some ground to catch up," left fielder Alex Gordon said. "We've done it so far since the break, and we've just been playing good baseball."
After limping into the break with five straight losses, the Royals have come out with a 13-3 record.
Santana won his second game of the trip, working the first six innings. He gave up one run, five hits and three walks and improved his record to 8-6 while lowering his ERA to 2.97.
Mike Moustakas, 0-for-11 in this series, broke that drought in a big way by hammering a 2-1 pitch from right-hander Zack Wheeler over the right-center field wall in the fourth inning to give the Royals a 1-0 lead.
It was Moustakas' 10th homer this season, halfway to the 20 he had in 2012.
"Wheels was throwing the ball well for them out there today. I ended up getting a good pitch, put a good swing on it, ended up leaving the yard and started the rally for us a little bit," Moustakas said.
It was a lovely 80-degree afternoon for 25,658 fans in Flushing Meadows, but the sun was giving the fielders fits. Mets second baseman Daniel Murphy missed Lorenzo Cain's popup in the second inning and was charged with an error.
There were other near-misses, and then to start the Royals' fifth inning, another miss. David Lough's high fly ball dropped into the grass beside right fielder Marlon Byrd, resulting in a double.
"The sun was bad, dead in your eyes," said Lough, who started in right field for the Royals. "Marlon definitely had a tough time out there."
After being bunted to third base, Lough was slowed by a tight right quadriceps and replaced by pinch-runner Jarrod Dyson. Wheeler's next pitch was a wild one and Dyson slid home safely ahead of catcher John Buck's recovery throw to the pitcher at the plate.
Eric Hosmer walked and, as Byrd raced under Alex Gordon's long drive to right center, ran to second and then started to retreat, anticipating a catch. But the ball dropped off of Byrd's glove for an error, putting runners at second and third.
"It's a sign of a good team, that when there are mistakes made on the field, you take advantage," Moustakas said.
Sure enough, Cain promptly drilled a single down the right-field line for two runs and a 4-0 lead -- with Gordon almost overtaking Hosmer as they both neared the plate in an almost comical race.
"I just got a good read on it and knew it was down the line," Gordon said. "Hoz did the right job of tagging up, and I was just going to be behind him the whole time. I know Cain was happy I got a good read there, so it worked out."
There followed a wild spree by the Mets' battery -- Wheeler threw another wild pitch, walked Moustakas and, after a passed ball by Buck, intentionally walked George Kottaras. That loaded the bases, and Santana -- the ninth batter in the inning -- struck out. But he also had a comfortable lead.
Byrd had a chance to atone for his outfield mishaps in the bottom half. The Mets used singles by Omar Quintanilla and Eric Young Jr. to produce a run before loading the bases with two outs on Murphy's single and Josh Satin's walk. Up came Byrd -- but Santana struck him out.
After the Mets picked up an eighth-inning run, manager Ned Yost opted to use closer Greg Holland even though the Royals had a four-run lead and there was no save situation. The reason was his bullpen had been run ragged in the two previous games, which went 11 and 12 innings.
"He's more rested than anybody else down there," Yost said. "In a five-run lead, it's easier to bring somebody else in and try to get through it. I'm thinking with a four-run lead and two guys get on, I've got to bring Holly in anyway. So [in that scenario] I've defeated the purpose of trying to rest my bullpen, so it just made sense to bring in Holly and close it out."
And he did, pitching a perfect ninth.
Yost had been drained after the two extra-inning games, a loss followed by a victory, and the four-run win must have seemed like a waltz in comparison.
"Any time you lose the first game of a series and come back and win the next two, I'm happy about that," Yost said. "I'm happy about the way things are rolling for us -- just keep going."
Dick Kaegel is a reporter for MLB.com. This story was not subject to the approval of Major League Baseball or its clubs.