Glaring sun plays part in Wheeler's rough outing
Glaring sun plays part in Wheeler's rough outing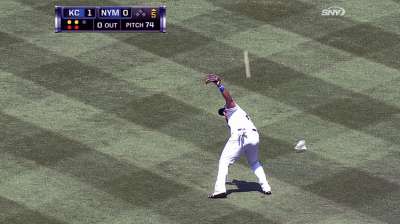 NEW YORK -- Shortly after Zack Wheeler walked off the mound in the fifth inning Sunday, his work done for the afternoon, manager Terry Collins approached his rookie pitcher for a word of advice. Wheeler "pitched fine," in Collins' opinion, but his effort lacked something.
Wheeler's teammates may have lost three balls in the sun, resulting in much of the damage against him in a 6-2 loss to the Royals, but what bothered Collins was that Wheeler also seemed to lose his killer instinct. Collins wished his pitcher had reared back, reached for something extra, squeezed every last mile per hour out of his arm.
"That's when you really start earning the respect of your teammates," Collins said. "And I'm not saying Zack wasn't giving us effort. I'm just saying at that particular time, that would have been the time to get off the mound, take a deep breath and say, 'This is it, boys. This is going to be my inning.'"
Instead, it remained the Royals' inning, as it was from the start. Pitching beneath a blinding sun at Citi Field, Wheeler first ran into trouble when Marlon Byrd could not corral David Lough's fly ball to lead off the fifth, losing it in the sky. Later in the inning, with one run already in, Byrd again misplayed a ball in the sun -- this one resulting in a rally-extending two-base error.
Rather than reach back for his signature upper-90s fastball at that point, Wheeler -- hindered by a mechanical hitch that he could not fix -- instead struggled to throw strikes with a four-seamer that began topping out in the lower 90s. He threw two wild pitches in the inning, walked three batters and fired another pitch to the backstop for a passed ball. By the time Lorenzo Cain smacked a two-run single into right field, the Mets found themselves in a 4-0 hole that would be too deep to climb out of.
"You come to the park, you never think you're going to feel like you're the reason you lose a game," Byrd said. "But today, I put that on me."
Collins did not, citing Byrd's track record of strong outfield play over the season's first four months. Instead, the manager called it Wheeler's responsibility to pick up his teammate.
"I wanted to see in that inning Zack Wheeler saying, 'OK, I can throw 96. Here's a 96. Here's a 97. I'm ending this inning,'" Collins said. "He kept trying to make pitches and wasn't making them."
There were also problems earlier in the game for Wheeler, who served up a solo homer to Mike Moustakas in the fourth inning and four runs in total.
As Royals manager Ned Yost noted, "Wheeler's a nice-looking young pitcher, but I liked the matchup. Our hitters are young, good fastball hitters, and Wheeler sports a pretty good fastball."
But Wheeler has overpowered good fastball hitters in the past, pitching to his own formidable strengths. Sunday, whether due to a breach in mechanics or a simple lack of focus, he could not.
"That's something that I've always prided myself in is if there's an error behind me or things aren't going my way, I'm just going to keep trying to pitch and make my pitches and get out of the inning," Wheeler said. "It didn't happen today."
It was not the first time Wheeler has unraveled in the face of some adversity. Last time out in Miami, he took a no-hitter into the seventh inning, only to allow four straight batters to reach base safely and settle for a no-decision.
This time, the Mets battled back with a run in the bottom of the fifth, when Eric Young Jr. singled home Omar Quintanilla. But Byrd struck out with the bases loaded against Royals starter Ervin Santana, who held the Mets to a lone run in six innings. The Royals then put the game away in the top of the sixth, scoring two runs before relief pitcher Gonzalez Germen recorded an out.
Afterward, Wheeler's teammates -- Byrd in particular -- pointed to their own shortcomings as a way to deflect negative attention from the rookie. But Wheeler accepted the burden that Collins put on him, understanding the things he could have done differently in the defining fifth.
"It doesn't matter how long you are or what stage you're at -- you've got to do that," catcher John Buck said. "It's a learning curve. He could've gotten out of that inning. Unfortunately he left a couple balls out over, so now, obviously, it looks worse."
Anthony DiComo is a reporter for MLB.com. Follow him on Twitter @AnthonyDicomo. This story was not subject to the approval of Major League Baseball or its clubs.