Cubs place Valbuena on DL, promote Watkins
Cubs place Valbuena on DL, promote Watkins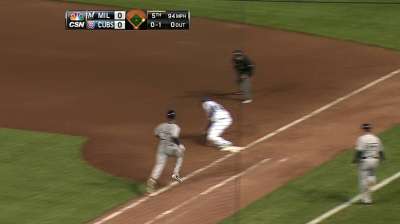 CHICAGO -- The Cubs placed Luis Valbuena on the 15-day disabled list on Sunday due to a strained right oblique and promoted infielder Logan Watkins from Triple-A Iowa.
Cubs manager Dale Sveum said Valbuena first felt discomfort four or five days ago and then felt it again when he pinch-hit in Friday's game against the Dodgers.
Watkins, who was selected by the Cubs in the 21st round of the 2008 First-Year Player Draft, had a .243/.333/.379 line at Iowa, with eight home runs and 26 RBIs in 107 games.
"He's kind of a little exciting player that can run and bunt, and obviously a left-handed hitter who can actually drive the ball and do some things," Sveum said of Watkins. "He's always got on base and I'm anxious to see him play up here."
"I was hoping, hopefully sometime this year, I would get [the call to the Majors] maybe," Watkins said of his promotion. "[It's been] kind of a rough year for me. I thought I could've been playing a little bit better, but I'm excited to be here and play hard every day, and hopefully I can stay here a little while."
Despite a relatively low batting average, Watkins' on-base percentage is solid. He said that's a result of the type of player he is.
"I mean, that's a big part of my game -- is drawing walks -- and this is the first year I've ever hit leadoff," Watkins said. " ... I just grind, you know, see a lot of pitches, find a way on base, force errors just running hard down the line. Just doing a bunch of different things."
Watkins was in the starting lineup at second base on Sunday against the Dodgers, along with his teammate at Iowa, Donnie Murphy, who got the start at shortstop. Murphy was promoted Saturday. Sveum said regular starters Darwin Barney and Starlin Castro were due for a rest anyway, so the timing of the two callups was good.
"Four or five days ago I had planned on giving Barney the day anyway. Because of the day off coming, he gets two," Sveum said. "As well as [Welington Castillo] and getting two days off for guys that have been playing every single day, as well as Castro, and that just kind of fell into place today anyway."
Watkins said he's happy to be teamed up with Murphy up the middle in his debut.
"It's going to be nice having him there, just for the comfort factor," Watkins said. "He's a really good shortstop and I'm excited to be out there with him."
Manny Randhawa is an associate reporter for MLB.com. Follow him on Twitter at @MannyBal9. This story was not subject to the approval of Major League Baseball or its clubs.