Bourjos, Vargas close to rehab assignments
Bourjos, Vargas close to rehab assignments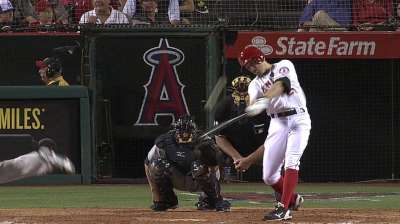 ANAHEIM -- Nothing is ever certain when it comes to injuries, but the Angels are hopeful both left-hander Jason Vargas and center fielder Peter Bourjos will be ready for rehab assignments this week.
Vargas threw a 50-pitch simulated game Saturday, came out of it feeling strong and is tentatively scheduled to throw five innings and 75 pitches in a Minor League rehab assignment Thursday. The Angels have yet to determine where that will take place. Vargas has been on the disabled list since June 21 with a blood clot near his left armpit.
Meanwhile, Bourjos "is getting much more aggressive with his baseball activity," according to manager Mike Scioscia.
Bourjos progressed from dry swings to hitting off a tee to front toss and has now taken batting practice each of the past four days.
"I'm feeling pretty good," said Bourjos, who is recovering from a right wrist fracture on June 29. "Just trying to get into a game, not sure when it will be. Hopefully, this week."
He is not sure how long his rehab assignment would last but does not expect a lengthy one as he has kept himself in shape throughout the recovery process.
"I don't think it's going to be where I need a week of games, but you never know until you get there," Bourjos said. "I feel like I've stayed in shape. My legs are in shape, I've been doing my running since I got hurt and my core. It's more about just getting my timing."
William Boor is an associate reporter for MLB.com. This story was not subject to the approval of Major League Baseball or its clubs.