Van Slyke optioned, but still considered valuable
Van Slyke optioned, but still considered valuable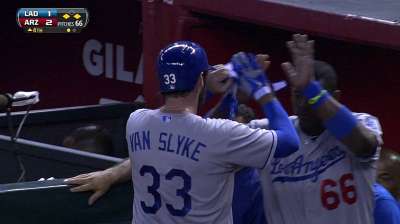 CHICAGO -- The Dodgers waited to see that Yasiel Puig's thumb injury wasn't serious before optioning Scott Van Slyke to Triple-A Albuquerque to make room for the activation of Sunday's starting pitcher, Stephen Fife.
Although Van Slyke has given the Dodgers a power bat off the bench who can play the outfield corners and first base, he seems to have become the easy option because he has options.
The Dodgers haven't given up on reliever Carlos Marmol, and manager Don Mattingly said he never considered sending rookie reliever Chris Withrow back to the Minor Leagues because the right-hander has quickly earned the staff's trust in important game situations.
"I don't want to send Withrow down," said Mattingly. "I think he's a fairly big piece for us. He can go two or three innings, can go short and gives us the ability to use different people in different ways."
Mattingly said the optioning of Van Slyke was a numbers decision and shouldn't be misread.
"Scott's swinging the bat well, but we're going to face only one left-hander in the next 16 days," he said. "One thing we have seen from Scott, when he sits six or seven or eight days, that doesn't do us a lot of good. He had good at-bats here and he's going to end up being a valuable piece, but right now this makes the most sense."
Mattingly said knowing that Van Slyke was likely going down Sunday entered the equation of moving up a day off for Adrian Gonzalez from Sunday to Saturday. Van Slyke started for Gonzalez, who was out with upper body stiffness.
"It made it easier, but Adrian really needed that day yesterday," Mattingly said. "Adrian's a lot better today. Yesterday he wasn't that good."
The demotion prevents Van Slyke of an opportunity to play in front of family and friends in his hometown of St. Louis, where the Dodgers' road trip continues Monday night.
Ken Gurnick is a reporter for MLB.com. This story was not subject to the approval of Major League Baseball or its clubs.