Mattingly doesn't expect Puig to be out long
Mattingly doesn't expect Puig to be out long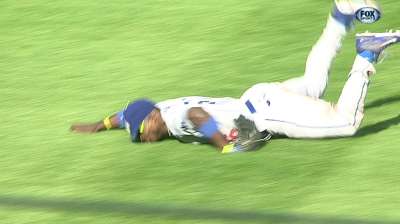 CHICAGO -- Dodgers manager Don Mattingly said he believes outfielder Yasiel Puig will miss only one or two days with a bruised left thumb that he injured while making a diving catch on Saturday.
Disclaimer: Mattingly is in an 0-for-2013 slump on medical predictions.
But Mattingly said Puig would be partially available Sunday for defense and pinch-running.
"Actually, he's pretty good," Mattingly said of Puig. "He's better today than we anticipated. There's a little soreness, for sure. He wore the brace overnight and it was stiff this morning, but as he got moving it got better. We anticipate the way he plays, he's going to get some stuff. He's been durable, really."
The injury is near, but not as bad, as a similar one Puig suffered earlier this season with Double-A Chattanooga that sidelined him 10 games. Among the injuries Puig has dealt with since his promotion two months ago are a sore wrist and shoulder from a head-first dive into first base and a sore hip slamming into the wall at Coors Field.
"I feel like we're out of the woods by the way he came in," said Mattingly. "He's had it before, so he knows what he can and can't do. I'm hopeful to have him tomorrow. I'm not 100 percent sure, and if he's iffy, we'll wait another day."
The Dodgers waited for Puig to arrive Sunday before deciding to option Scott Van Slyke to Triple-A Albuquerque and make room for starting pitcher Stephen Fife.
Ken Gurnick is a reporter for MLB.com. This story was not subject to the approval of Major League Baseball or its clubs.