Yost shuffles lineup for finale vs. Mets
Yost shuffles lineup for finale vs. Mets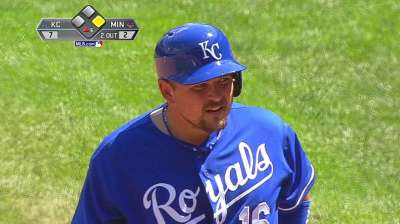 NEW YORK -- There was no right-field duty for Eric Hosmer on Sunday against the Mets. And no Billy Butler in the Royals' starting lineup.
Manager Ned Yost had moved Hosmer from first base to right field for the first six of Saturday's 12 innings, with Butler -- the designated hitter under American League rules -- playing first base. Hosmer had no chances in the outfield and Butler handled routine chances well.
But for Sunday's finale at Citi Field, Yost went back to a more conventional lineup, although with an unusual look. Right fielder David Lough led off for only the eighth time this year, and second baseman Miguel Tejada batted second for just the second time.
There won't be much more down time for Butler. This was the last series for the Royals this year in a National League city. Miami and Washington are still to come on the schedule, but they'll be playing in Kansas City.
Dick Kaegel is a reporter for MLB.com. This story was not subject to the approval of Major League Baseball or its clubs.