Rosario set to join contingent at DR facility ceremony
Rosario set to join contingent at DR facility ceremony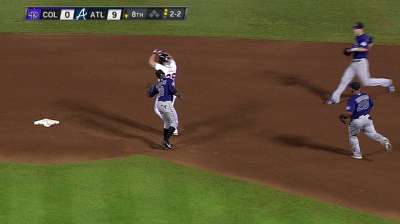 PITTSBURGH -- Catcher Wilin Rosario felt it was worth giving up a day off to see how much better a new group of Rockies prospects in the Dominican Republic has it than he did.
"It's something great that the Rockies opened the facility for those young players that grew up in the Dominican, in Venezuela and all those tropical cities and countries," Rosario said. "I feel great about the Rockies for giving us more comfortable facilities. It's something amazing."
Rosario will be part of a group of 15 from the Rockies' organization to take a trip to the Rockies' new complex outside of Boca Chica, Dominican Republic, for opening ceremonies on Monday. The complex actually opened earlier this season, but Monday will be the formal event.
Rosario will be joined by teammates Jhoulys Chacin, Jonathan Herrera and Juan Nicasio, as well as club owner Dick Monfort, chief baseball executive Dan O'Dowd and senior vice president of Major League operations Bill Geivett, among others.
The new complex covers 17 acres, and has 2 1/2 practice fields, dorm rooms of four bunks to a room that can accommodate as many as 80 players, a covered five-lane batting cage, classrooms for academic and life-skills training, a cafeteria and living quarters for the cooks. Eventually, the team wants to provide guest housing for families of prospects.
When Rosario signed with the Rockies in February 2006 at age 17, he was at the old complex -- a shared facility in Boca Chica -- that had a large room full of bunks and a facility that wasn't state of the art. But Rosario provided perspective: The old place was a step up from playing with wonderful players with no facilities in Bonao, Dominican Republic.
"The little field by your home where you practice, it isn't even close," Rosario said. "It's clean. The grass is cut. The field is lined. You see the bases -- you can take them out of the ground. At our field, you put a little bit of paper, a towel, something that you can hit, that was the base.
"And when you were there, you got three meals, for sure. Breakfast, lunch and dinner. You'd say, 'That's the life.'
"Now, from what I hear, it looks like a nice hotel, with the beach and everything."
Thomas Harding is a reporter for MLB.com. Read his blog, Hardball in the Rockies, and follow him on Twitter @harding_at_mlb. This story was not subject to the approval of Major League Baseball or its clubs.