Twins patient as Gibson adjusts to big leagues
Twins patient as Gibson adjusts to big leagues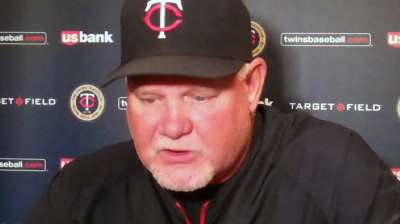 MINNEAPOLIS -- Kyle Gibson is a smart guy. During his coursework at the University of Missouri, it is possible the former communications major came across the Greek myth of Sisyphus, the king sentenced to push a boulder up a hill, only to watch it roll back to the bottom, over and over again, for the rest of eternity.
That story strikes a familiar tone with the Twins' rookie right-hander these days, as his brief Major League career has featured numerous positive signs, followed closely by apparent regression. One step forward, two steps back ... lather, rinse, repeat.
Saturday night's game against the Astros represented another of those steps back. Gibson allowed four runs on nine hits in just three innings, needing 81 pitches to get nine outs. The Twins' bats and bullpen saved him from taking his fourth loss in seven starts, but following three decent outings, Gibson has given up a combined 16 hits and nine earned runs over eight innings in his last two starts.
Twins manager Ron Gardenhire said the team would remain patient with Gibson, its first-round pick in the 2009 First-Year Player Draft. The Twins know Gibson had Tommy John surgery in November 2011 and threw just 28 1/3 innings in the Minor Leagues last year, meaning this year is more about putting in the work than worrying about the results.
In fact, Gardenhire told Gibson as much after Saturday's disappointing start.
"You just can't step into the big leagues and dominate -- not too many people have ever been able to do that," Gardenhire said. "It's a process here. It's a learning process for him; he's been through a lot with his arm. We just have to keep giving him the ball, and we'll see how he goes from here. We like this young man. He's got a great arm. It's just got to translate out onto the field. He's done it a few times, pitched pretty decent, and we'll just keep giving him the ball."
Gibson said he appreciated the team's patience with him, even as he tries to remain patient with his own performance.
"It's always good when a player knows that the front office has confidence in him, and I still have confidence in myself," Gibson said. "I've struggled and haven't been pitching the way I want to, but you have to be process-based rather than results-based in baseball, because it's a game based so much on failure.
"By all means I want to win, and I want to win every time I go out there. I want to go seven, eight, nine innings every time I go out there. But I have to make sure that I stay focused on the work I want to do and the fact that I've made seven starts. That's not an excuse to be bad -- there's no doubt about it -- but I am still getting used to things, and I just have to try to speed up that learning curve a little big and try to make adjustments a little better."
Gardenhire said he and pitching coach Rick Anderson had Gibson pay close attention to reliever Anthony Swarzak, who took over for Gibson on Saturday night and threw three no-hit innings. The manager lauded Swarzak for his pace and penchant for attacking the strike zone, and after the game Swarzak reminded Gibson that he was in a similar position not too long ago.
"When I got called up in '09 I kind of did the same thing he's doing now -- just trying too hard, forcing the issue a little bit," Swarzak said. "You want to do good so bad that it kind of works against you sometimes. I was just telling him to get his head out of his way a little bit and let his stuff take over. Relax, embrace being in the big leagues and embrace the opportunity he has to show the world what he can do with the baseball."
Patrick Donnelly is a contributor to MLB.com. This story was not subject to the approval of Major League Baseball or its clubs.