Hellickson, Rays pitchers practice hitting for road trip
Hellickson, Rays pitchers practice hitting for road trip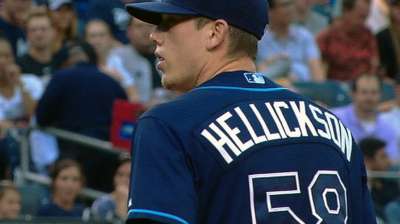 ST. PETERSBURG -- The Rays had some unfamiliar faces in the cage during pregame batting practice Saturday as they prepared to embark on an Interleague road trip to the West Coast, where they will face the D-backs and Dodgers.
Tampa Bay's pitchers, both starters and relievers, were fine-tuning their swings in preparation for their plate appearances in the National League ballparks.
"These pitchers are all jacked up," manager Joe Maddon said. "Roberto [Hernandez] is going to have to play once next week. Thank God."
Rays pitchers are a collective 0-for-13 on the year. David Price owns the only hit among starters. It came in 2010.
Jeremy Hellickson, who will face the D-backs on Tuesday, said having his name in the batting order changes the way he approaches his outing.
"You do have to think about how hard to run to first," Hellickson said. "You don't want to get too tired, especially if you're the third out. You only get 30 seconds to get back out there. You have to be conscious of all that stuff."
Hellickson also said pitchers hitting changes a manager's strategic outlook on a game, because even if a pitcher is cruising through a start, he can be pulled for a pinch-hitter.
"Once you get up to that 80-, 90-, 100-pitch range, I think they would rather have a real hitter up there in the situation I would be in," Hellickson said.
Starter Alex Cobb said hitting gives him a greater appreciation for pitching.
"I honestly thought it would be a little harder to see the ball," Cobb said. "I don't hit well, but I thought it was a lot more difficult than it looked. It gives you a different perspective on pitching. You walk in hitters' shoes to a small degree and know what they're thinking."
Sam Strong is an associate reporter for MLB.com. This story was not subject to the approval of Major League Baseball or its clubs.