Cobb, Moore eyeing return in next homestand
Cobb, Moore eyeing return in next homestand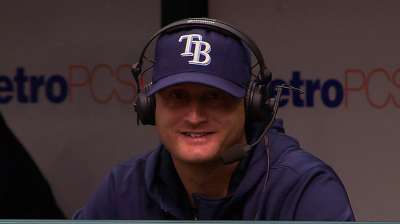 ST. PETERSBURG -- Rays right-hander Alex Cobb appears to be on his way back to the starting rotation after he threw 4 1/3 innings in a rehab appearance for Class A Advanced Charlotte on Saturday.
Cobb threw 56 pitches, allowed one run on three hits and struck out three. The outing went much more smoothly than his last attempt, which only lasted two pitches because of a blister on his right index finger.
He was placed on the disabled list on June 15 after being struck in the head with a line drive off the bat of Kansas City's Eric Hosmer.
"I got done exactly what I wanted to in challenging conditions with the humidity that was down there," Cobb said of the start. "The heat doesn't only affect the blister, it tends to have an effect on headaches, too. Not having to deal with any of that was nice."
Cobb said he was not sore Sunday and will make another appearance with the Stone Crabs on Thursday in Fort Myers, Fla., where he will look to pitch deeper into the game.
If all goes according to plan, he could start for the Rays on Aug. 13 against Seattle, the first game of the team's next homestand.
"I was making adjustments more quickly, and I can only imagine it will get better with the next game," Cobb said. "I think I'll be ready after another start, in my opinion, but that's not to say that's the plan."
He also said that the vertigo and headaches that had previously bothered him are a thing of the past. He was more concerned with the blister Saturday than he was his head.
"I had a ground ball come back up the middle and had no hesitance toward that," said Cobb, who also had to dodge a line drive that shot into the dugout. "The vertigo was nonexistent all night. The only thing I was concerned about was a headache during the game with the heat, and that didn't pop up at all, either."
Cobb is not the only Rays starter set to make his return from the disabled list soon. Matt Moore, the team's leader in wins (14) who was placed on the DL Wednesday because of a sore muscle in his left elbow, played catch from 60 feet on Sunday.
Moore will throw from 75 feet on Monday and travel with the team to the West Coast.
"Just getting the glove on my hand feels good," Moore said. "I wasn't testing it. I was just letting it go to see where it comes out. I'm satisfied with where we're at."
From the beginning, Moore and manager Joe Maddon have maintained that the injury is not serious, and an MRI revealed no structural damage. Like with Cobb, Maddon hopes to have Moore return to the rotation after the road trip.
Sam Strong is an associate reporter for MLB.com. This story was not subject to the approval of Major League Baseball or its clubs.