CarGo returns to lineup with slightly altered swing
CarGo returns to lineup with slightly altered swing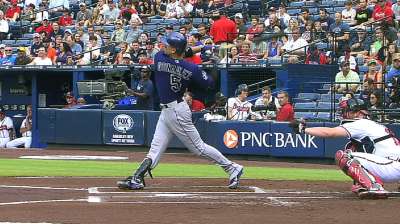 PITTSBURGH -- All isn't perfect with the chronically sprained right middle finger of Rockies left fielder Carlos Gonzalez, but he was back in the lineup Sunday against the Pirates, hoping new hand positioning on the bat will help.
Gonzalez usually holds the bat with his pinky beneath the knob. Now he'll have all of his fingers on the bat handle in hopes of offering stronger support. To compensate for the loss of length on the hitting surface, Gonzalez has ordered 35-inch bats -- an inch longer than usual -- though they haven't arrived yet. But even without the new bats and with the old pain, Gonzalez felt he needed to return as the Rockies attempt to win a series.
"It's still real sore," Gonzalez said. "But as players, we prepare the entire winter to play the whole season. I know I might not be 100 percent, but I can't stand sitting in the clubhouse or in the dugout when my team is playing. I want to be out there."
Gonzalez had a recurrence of the injury Wednesday against the Braves. It was the third flare-up in July. He lost the National League lead in home runs during the week -- the Pirates' Pedro Alvarez hit his 27th to pass him, and the D-backs' Paul Goldschmidt hit his 26th to catch him.
"It's nice to lead the league in any category," Gonzalez said. "But I'm not here just to win the home run championship. I will have to shorten up my swing, hit the other way and do things to help the team. And I'm sure if the pitcher makes a mistake, I might not be able to hit it 450 feet, but that doesn't mean I can't hit it far enough."
The left-handed hitting Gonzalez tends to hurt the finger when he chases outside against a left-handed pitcher, because he is extending the bat and putting pressure on his bottom hand. Manager Walt Weiss will act accordingly, by looking to spell Gonzalez against left-handers. The good news for Gonzalez is the Rockies will face three right-handed starters in a road series against the Mets starting Tuesday.
Gonzalez entered Sunday leading the NL in slugging at .594, extra-base hits with 55 and total bases with 230. His 11 assists also led Major League outfielders.
Thomas Harding is a reporter for MLB.com. Read his blog, Hardball in the Rockies, and follow him on Twitter @harding_at_mlb. This story was not subject to the approval of Major League Baseball or its clubs.