Mets mulling hot-corner options with Wright out
Mets mulling hot-corner options with Wright out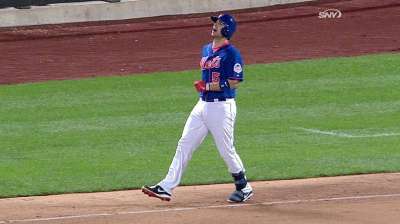 NEW YORK -- As the Mets prepare for life without David Wright for at least the next month, manager Terry Collins will meet with general manager Sandy Alderson. With their long-time staple at the hot corner and in the No. 3 spot in the order gone, New York needs to find a way to reshuffle its infield.
Collins said he will talk with the general manager about how the infield will be aligned over the next couple of weeks. Since the captain's injury on Friday, the Mets have already used two third basemen. A third one -- Daniel Murphy -- could be a solution, as could more reinforcements from the Minor Leagues.
"I'm going to talk to Sandy about it -- some of the ideas that we have moving forward here for at least the next month," Collins said, "because I'd figure that's the least amount of time it would be."
Justin Turner got the start at third on Saturday and Josh Satin received the nod for Sunday's finale vs. the Royals, batting third in the order.
Against righties, Satin could be the answer as a way to get both he and Ike Davis -- who have each primarily played first -- into the lineup together.
A more everyday solution, though, could be moving Murphy back to third base. The infielder, who struggled with his defense when the Mets were moving him all around the field, has settled in at second base and become an average fielder. A move back to the other side of the field -- where he would be forced to field more balls hooking and spinning -- could throw off that rhythm.
Murphy took ground balls at third base on Sunday and will do so again on Tuesday to stay fresh at the position.
"He's played over there enough in the past that I don't think that's going to be a huge transition," Collins said. "It's just that that ball gets to you a lot faster, too."
Of course, that would mean New York would need a new second baseman. A potential replacement there could be Eric Young Jr., who has been excellent in the outfield. Young was primarily a second baseman during his first two seasons in the Majors, but Collins is a bit wary of tweaking anything with an outfield that's been one of the best in baseball over the past month.
"I want to make sure the situation in the outfield is what we need it to be because, again, we've played so well out there," Collins said. "I don't want to disrupt a lot of things."
The Mets could also dip into their farm system for Wright's replacement. The Mets' top hitting prospect, Wilmer Flores, is a natural third baseman who has been largely blocked by Wright in his path to the Majors. His .322 batting average with Triple-A Las Vegas puts him near the top of the Pacific Coast League leaderboard.
Collins said Flores could "potentially" enter the mix, as well, whether it be at second or third base.
"He's been playing a lot of second base," Collins said, "so I'm going to certainly gather all the information before we make that move with him."
David Wilson and Chris Iseman are associate reporters for MLB.com. This story was not subject to the approval of Major League Baseball or its clubs.