Ventura mulls lineup changes to 'mix things up'
Ventura mulls lineup changes to 'mix things up'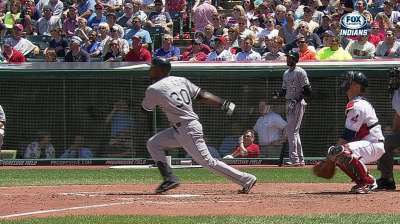 DETROIT -- Robin Ventura has thought of making a few interesting switches within his everyday lineup to spark a group that has been shut out 11 times and ranks last in the American League in runs scored.
"Absolutely. I remember [Adam] Dunn led off before in his career," Ventura said. "Believe me, there's been thoughts of trying to do something that totally breaks the mold. Again, you can't go crazy with it. But there is a certain amount you want to mix things up."
Ventura's team completed two-thirds of its season with the worst 108-game record since 1970 (38-70). But as has been stated countless times before, the White Sox failure certainly is not based on lack of effort.
"It's one of those you get into a rut offensively, and that's where we're at," Ventura said. "Last night there was a combination of being in a rut and having a guy like [Max] Scherzer throwing that makes it a little more difficult, and everyone is going to blame it on not doing things well offensively. There is a certain amount of giving him credit, too."
Scott Merkin is a reporter for MLB.com. Read his blog, Merk's Works, and follow him on Twitter @scottmerkin. This story was not subject to the approval of Major League Baseball or its clubs.