Rockies drop finale vs. Bucs with repeat performance
Rockies drop finale vs. Bucs with repeat performance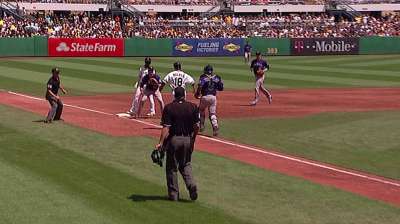 PITTSBURGH -- The main difference between Saturday night and Sunday afternoon was sunlight.
Once more, the Rockies fizzled against a strong Pirates pitcher. Again, the Rockies' starter was less than efficient and his middle-innings replacement didn't keep the game within reach. After winning Friday night, the Rockies dropped the final two games against the National League Central leaders, Sunday's by a 5-1 final in front of a third straight sellout crowd.
The Rockies, who emerged from the All-Star break just 4 1/2 games off the NL West pace, are 1-6 on a road trip that ends with three games against the Mets starting Tuesday and are more in the camp of trying to salvage their season than pushing to contend. Now they trail the Dodgers by 10 1/2 games in the West.
"You find out a lot about what you're made out of in these situations and this time of year, when things like this are happening," veteran first baseman Todd Helton said. "So we'll see."
Pirates starter A.J. Burnett (5-7) won for the first time since June 8 with a complete game, his first this year and 23rd of his career. He gave up eight hits, but struck out nine and held the Rockies scoreless until Jonathan Herrera's third hit, an RBI single in the seventh.
The Rockies' Juan Nicasio (6-6) labored through almost constant traffic, but somehow trailed only 2-0 when manager Walt Weiss removed him at 103 pitches -- right around where the team holds its starters -- with two on and one out in the fifth. Nicasio had worked out of a no-out, bases-loaded situation in the third by holding the Pirates to one run, which scored under odd circumstances.
Nicasio's replacement, righty reliever Manuel Corpas, had pitched well of late -- a 1.54 ERA in his previous five games, all of which he threw at least two innings. He also hadn't let any of the three runners he had inherited score. But Russell Martin swatted Corpas' first-pitch slider into the left-field seats for his 10th homer of the season and a 5-0 Pirates lead.
Weiss gave Nicasio points for not giving up the big hit. He said there may be times he lets Nicasio work through a tough situation like the fifth, but he thought going to Corpas to try for a double-play grounder was the best strategy this time.
"It depends on the situation," Weiss said. "At that point, he's up over 100 pitches and he's been working hard. I may pick my battles with that to try to develop guys [by letting them work through], but for the most part, I'm going to try to win the game. What's our best shot of winning the game?"
Corpas said he thought a good slider could beat Martin, but he threw a bad one, though he didn't allow any more runs or hits in 1 2/3 solid innings.
"Sometimes it's good, sometimes it's not good," Corpas said. "Sometimes, one pitch, double play. I've done that two times. I'm not Superman, but I'm trying to do my best and do my job."
It was similar to Saturday night's 5-2 loss, when Adam Ottavino replaced Jorge De La Rosa in the fifth with two on and a 2-0 deficit. One of the runners scored, and Ottavino gave up two runs in 2 2/3 innings. Ottavino has been solid. Saturday night, plus a hard-luck July, has lifted his ERA from 1.94 on June 25 to 3.18. But 10 of the 20 runners Ottavino has inherited also have scored.
Nicasio was more resilient than good. Starling Marte led off the game with a double and scored on Andrew McCutchen's one-out single. In the third, Neil Walker doubled, McCutchen singled and Pedro Alvarez walked.
Then Martin grounded to third baseman DJ LeMahieu, who stepped on third before throwing home. Catcher Yorvit Torrealba, apparently not aware LeMahieu stepped on third, chased Walker back to third and tagged him and McCutchen, who was already out after LeMahieu stepped on third, but also standing on the bag. Because Walker returned to the bag, the bases remained loaded and Garrett Jones drove him home with a sacrifice fly.
Torrealba said later he was looking down to make sure his foot was on the plate and didn't see LeMahieu step on third. LeMahieu said he did not yell at Torrealba to throw the ball so he could tag Walker before he could return to third.
After losing two runs on the homer off Corpas, Nicasio officially finished with 4 1/3 innings, six hits, four runs, three walks and four strikeouts.
"I was missing with my fastballs, and the hitters had a lot of foul balls, too," Nicasio said. "I tried to finish the inning, but I had a lot of pitches, so I went out of the game."
Almost as big a problem the last two games has been that Rockies pitching has had almost no margin for error because the offense has struggled against starters. Carlos Gonzalez, who sat the first two games with a right middle finger sprain, returned, but could manage only a bunt single.
"I don't think he missed a spot to me," said Helton, 0-for-3 with a walk. "The first pitch I saw, I probably could have hit."
On Saturday, the Rockies had just two hits, but also had five walks and couldn't take advantage in seven scoreless innings against Francisco Liriano. Sunday's game saw the Rockies blow a chance against Burnett in the top of the fifth.
Torrealba and Herrera singled with one out. Burnett fielded Nicasio's bouncer to throw out Herrera at second, and forced Corey Dickerson into a groundout.
"I actually felt good for nine innings," Burnett said. "I noticed that the pitch count was low about halfway through, and you take pride in finishing what you started. Strike one was huge today."
Thomas Harding is a reporter for MLB.com. Read his blog, Hardball in the Rockies, and follow him on Twitter @harding_at_mlb. This story was not subject to the approval of Major League Baseball or its clubs.