Well-oiled machine: Red Sox blank D-backs
Well-oiled machine: Red Sox blank D-backs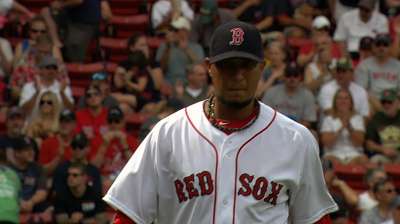 BOSTON -- There is something to be said for machine-like consistency. That often overlooked trait is what has the Red Sox in possession of the best record in the American League and the most wins in the Majors with 49 games left in the season.
This Red Sox team, backed by a grind-it-out approach, keeps winning games and series.
Sunday was one of those days that manager John Farrell's team did both, downing the D-backs, 4-0, in the rubber match of a three-game series.
Boston (68-45) leads the Major Leagues with 23 series wins.
"I think it goes back to the same characteristic this team has shown all year," said Farrell. "The game today is the most important one. Just the talk on the bench before the game was to do whatever it took to win a series, and we know with Tampa Bay, the way they continue to perform as well, we're thinking about winning every day we walk on the field."
And yes, the Rays did win yet again. So the Red Sox, despite their strong play, still lead the AL East by just one game.
"As I said, we're a long way from where we want to be. We've got to continue to do it, not lose focus. Every game counts," said right fielder Shane Victorino. "We've got a tough stretch ahead of us. We've got to stay after it. We haven't gained any ground other than a half a game on Tampa. So they're still right there with us. But we're not worried about what they're doing. We control our own destiny."
Lefty starter Felix Doubront, one of the many key contributors to this team, fired seven shutout innings, allowing five hits and no walks while striking out five.
In fact, Doubront's consistent excellence mirrors that of his team. He has given up three earned runs or less in 15 straight starts, not to mention 19 of 20 on the season.
"I've been consistent in my five-day routine and just taking my plan for my next outing," Doubront said. "That's the most important thing."
Victorino, who embodies the toughness of the 2013 Red Sox, twisted into the wall like a pretzel in pursuit of a foul ball that he didn't catch earlier in the game. Instead of exiting the game, the switch-hitter merely hit right-handed for the rest of the day, getting hit by two pitches and belting a pair of singles.
"I hit my left hip," said Victorino. "My left hip hit the wall pretty well. It didn't really feel too comfortable. Actually, I don't know if it was a good thing that I did hit the wall with my left hip. It might have made everything else feel better on the left side. Again, any time I get a chance to make a catch, I'm going to try to make it. But knock on wood, I came away unscathed from a serious injury, but I'm going to continue to play that way."
Stephen Drew, who has warmed up of late, went 2-for-3 and scored twice.
"I think earlier on in the year I was putting some good at-bats together and just had nothing to show for it," said Drew. "It's good when the ball falls your way sometimes and hopefully I can just keep it going."
Following the solid ending to a 5-2 homestand, the Sox hit the road for a three-city road trip through Houston, Kansas City and Toronto.
"We've just got to find a way to win," said second baseman Dustin Pedroia. "Pitch well, play good defense and get the hit when we need it. We've been doing that lately. We have to continue to do that. We like playing baseball. It's going to be fun to get out to Houston and play."
The day started quietly. After getting no-hit for 3 2/3 innings, Mike Carp belted a single to center with two outs in the fourth.
In the fifth, the Sox put together a full-fledged rally. Drew and Brock Holt led off with singles, putting runners at the corners with nobody out. Jacoby Ellsbury got the first run of the game home on a sacrifice fly to center. After a single up the middle by Victorino, Pedroia ripped an RBI double into the left-field corner to make it a 2-0 game.
An inning later, the Sox caught a break. Ellsbury hit a routine fly ball that right fielder Gerardo Parra never saw, and it fell in for an RBI single. Victorino smoked an RBI single to give Doubront a 4-0 edge.
That was plenty for Doubront.
"He's a little more mature," said Arizona outfielder Cody Ross, who played for the Red Sox last season. "A little more mature. He was good last year. For a rookie, he pitched well. Today we had him on the ropes and couldn't get anything when we needed to. He made some good pitches and located the ball well. But we had our opportunities and we blew it. They didn't. When they had some opportunities, they capitalized. That's the way it is."
And that's the way it's been for the Red Sox all year.
"You're seeing it all," said slugger David Ortiz. "I mean, you have different guys every day trying to contribute to winning games, and that's all that matters."
Ian Browne is a reporter for MLB.com. Read his blog, Brownie Points, and follow him on Twitter @IanMBrowne. This story was not subject to the approval of Major League Baseball or its clubs.