McCarthy unable to contain Red Sox's bats
McCarthy unable to contain Red Sox's bats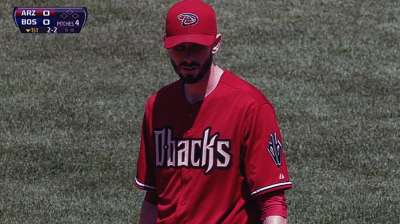 BOSTON -- For a pitcher making his first start after a lengthy stay on the disabled list, the Red Sox are not an ideal team to face.
Boston grinds out at-bats and in the process grinds down even the best of pitchers, much less one on the comeback trail.
The Red Sox made Brandon McCarthy throw a lot of pitches early before finally knocking him out in the fifth en route to a 4-0 win over the D-backs on Sunday afternoon in front of a sell-out crowd at Fenway Park.
McCarthy, who was activated from the disabled list prior to the game, last started May 30 before being shut down with right shoulder inflammation. He made a pair of Triple-A rehab starts, but that could not simulate a Red Sox team that leads the Majors in foul balls.
"There's not a lot of true free swingers. Even the ones that are more free swingers are still quality enough hitters that they're not easy outs," McCarthy said. "They still foul balls off, they hit you, they make you work for it, so it's a little tough when you're on a short pitch count."
McCarthy held the Red Sox to just one hit through four innings, but thanks in part to an error, two walks and a hit batter, he needed a whopping 77 pitches to do it.
"Towards the end, I just felt my lack of ... game shape," McCarthy said. "I just wasn't able to execute as much as I'd like and the ball kind of started getting up a little bit. Against a team like that, you're going to pay for it a little bit."
In the fifth, the Red Sox were able to get their offense cranking, scoring a pair of runs and chasing McCarthy from the game.
"We scrapped out some runs," Red Sox outfielder Shane Victorino said. "That's what it's all about. That's what this team has been built on, and you know, we got to continue to work and stay after it."
The Red Sox padded the lead with a pair of runs in the sixth off reliever Josh Collmenter to go up 4-0.
That was more than enough support for Boston starter Felix Doubront (8-5).
Doubront allowed five hits and did not walk a batter while striking out five over seven scoreless frames.
The D-backs walked a fine line after the game between crediting Doubront for pitching well and chastising themselves for a poor approach. After all, there have been a lot of pitchers recently that have silenced the Arizona bats.
"They pitched good," manager Kirk Gibson said of the Red Sox during the last two games of the series, "but you can't give them too much credit. We had eight singles today but didn't put anything together. We had opportunities with runners in scoring position and not good at-bats. You'll have to ask them what's going on with that."
The D-backs were 0-for-5 with runners in scoring position.
"We definitely didn't bear down and grind them out," outfielder Cody Ross said of his team's at-bats. "We were going up there and swinging at first pitches, which isn't a bad thing. But if you're going to swing at the first pitch, you have to do some damage. We have to be better."
The loss, combined with the Dodgers' win over the Cubs, dropped the D-backs to a season-high 5 1/2 games in back of Los Angeles in the National League West.
There are still 51 games left to play, time to make up the deficit, but the D-backs are teetering dangerously close to being out of the race.
In the series opener Friday, they played with an urgency that led to a 7-6 win, but the last two days, the offense disappeared again.
"If we continue down this path, it doesn't matter what anybody does in front of us," Ross said. "We're not going to be in a very good position if we play like this. We have to play like we played on Friday, day in and day out. With intensity, with some emotion, and yesterday we came out flat and today the same thing. We've got to step it up."
The D-backs are off Monday before opening an eight-game homestand Tuesday against the Rays.
Judging by Gibson's postgame comments, changes could be coming as he tries to find the right combination.
"Maybe I'll tinker with some stuff some more, play some different people," Gibson said. "The players need to reflect on what we need to do and play a little differently when we get home."
Steve Gilbert is a reporter for MLB.com. Read his blog, Inside the D-backs, and follow him on Twitter @SteveGilbertMLB. This story was not subject to the approval of Major League Baseball or its clubs.