Moose finds himself on catching depth chart
Moose finds himself on catching depth chart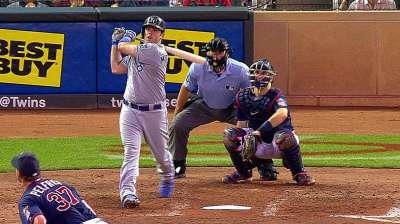 NEW YORK -- The question always comes up when there's a catchers' crunch: Who would be the Royals' emergency backstop?
There was a budding crisis on Saturday, when George Kottaras -- who had started the game -- was replaced by Salvador Perez, and Perez took a hard blow off the mask from a foul ball. He shook it off and finished the 12th inning as the Royals secured a 4-3 win over the Mets.
Kansas City carries only two catchers. What if the game had gone on and Perez, later diagnosed to have a low-grade concussion, could not have continued?
Infielder Chris Getz, earlier considered the emergency catcher, is on the disabled list. So manager Ned Yost was thinking ... well, let's go inside the Royals' dugout before Sunday's game.
Yost looks up and sees third baseman Mike Moustakas signing autographs and passing them over the dugout roof to fans.
"Hey, Moose! If I needed you to put the gear on for Salvy, you could have handled that, right?" Yost shouts.
"Absolutely, easily," Moustakas replies.
"See, he's my man," Yost says.
Suddenly, Moustakas has another thought.
"As long as it wasn't [Kelvin] Herrera going in to pitch, I'd have been all right," he tells Yost.
Herrera and his 100-mph fastball had already gone out of the game, so Moustakas would have been OK.
With in-game moves proliferating during the extra-inning game under National League rules on Saturday, the Royals were out of position players. So if Moustakas had moved to catcher, Yost would have switched Alex Gordon from left field to his old third-base spot.
That would've meant a pitcher in left field.
"We've got guys that like to shag balls who are athletic enough -- [James] Shields is one, [Jeremy] Guthrie is one," Yost said.
Anyways, with Perez going on the seven-day concussion list, the Royals called up Brett Hayes to help out Kottaras. So Moose won't be needed in catching gear unless, of course, another emergency arises.
"That's one of those things I don't even want to think about," Yost said.
Dick Kaegel is a reporter for MLB.com. This story was not subject to the approval of Major League Baseball or its clubs.