Blanco's late blast leads Mariners to series victory
Blanco's late blast leads Mariners to series victory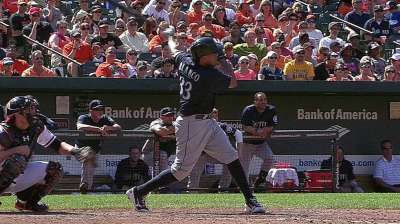 BALTIMORE -- A Mariners team building around a young core of players got key contributions from a pair of 41-year-old veterans on Sunday, as Henry Blanco and Raul Ibanez drove in all the runs and made a winner of Joe Saunders after a gritty outing by Seattle's southpaw.
Blanco's two-run homer in the seventh inning helped the Mariners to a 3-2 win over the Orioles at Camden Yards, securing the series with their second straight victory after opening the road trip with four straight losses. Seattle heads home with a 52-59 mark, having gone 17-12 since July 2.
Ibanez chipped in with a pair of doubles and the team's other RBI on a day the Mariners made the most of their six hits.
"At this point, you just want to contribute to win games and hope for the best," Blanco said of the old-timers' production. "Raul is a pretty good hitter. He always has been. And I've just been lucky. I'm just playing my game and trying to help out as much as I can."
Blanco hit his third home run in 17 games since signing with Seattle to fill a backup catcher's role in mid-June. This was his first non-grand slam for the Mariners, but his long ball was just as big as his previous homers as it pushed Seattle back on top after Baltimore had taken a 2-1 lead in the sixth.
Blanco's blow supported Saunders, who had dodged trouble for five innings against his former Orioles teammates before designated hitter Danny Valencia finally got to the lefty with a two-run homer in the sixth.
Saunders left the field kicking himself for giving up the lead, but watched with glee moments later when Blanco drove an 0-2 pitch from Wei-Yin Chen into the left-field seats.
"I was not happy at all," Saunders said. "I had a couple choice words for myself. But this game is funny. You go from an ultimate low to an ultimate high when Hank gets that huge hit off a really good pitcher in Chen. He bailed me out, really. I owe that guy dinner and a bottle of liquor."
Blanco has hit just .180 (9-for-50) with the Mariners, but three of his hits have been home runs and he's racked up 14 RBIs.
"All I can say is Blanco is Blanco," Chen said through interpreter Tim Lin. "He swung the bat really well. That's the spot I wanted to attack and I threw the ball right on the spot, and he still swings the bat really well and he hit a home run off me. Hats off to him."
Saunders, who pitched nine games for the O's last year after being acquired in an August trade from the D-backs, has now gone 7-0 with a 3.95 ERA in nine starts against Baltimore, including a complete-game win in April at Safeco Field.
Saunders grew up an hour south of Camden Yards and says beating the Orioles is special.
"I love pitching here," he said. "It's kind of my home ballpark. I grew up here, I watched a lot of games here as a kid, watching Cal [Ripken Jr.] and Mike Mussina and all those guys. It's kind of like another home game for me."
Saunders allowed nine baserunners in the first five frames without damage, as the Orioles went 0-for-11 with runners in scoring position.
Baltimore had runners on first and second with no outs in both the second and third innings, but couldn't score. Saunders escaped again in the fourth when Valencia hit a one-out double, but then was stranded there, and in the fifth when a single and a hit batter put two on with one out.
But all the baserunners pushed up Saunders' pitch count, which reached 97 after five innings. And after a leadoff walk to Steve Pearce in the sixth, Valencia finally solved Saunders with a two-run blast on a 1-0 changeup that put the Orioles up, 2-1.
Saunders wound up allowing eight hits and two runs with two walks, a hit batter and two strikeouts in a 115-pitch afternoon. The 32-year-old is now 10-10 with a 4.58 ERA on the season.
"I was thinking to myself, it must be nice to get a 1-2-3 inning, but it wasn't happening today," said Saunders. "They made me work."
All the Mariners returned home happy after turning things around in the final two games of the road trip. That reversal of fortune coincided with the insertion of rookie Danny Farquhar in the closer's role, as the 5-foot-9 right-hander saved his second straight game Sunday with a perfect ninth.
"We've talked about mixing-and-matching, but he's been one of our most consistent arms out of the bullpen," said acting manager Robby Thompson. "Once again he got to the curveball and cutter, the four-seamer. We'll just try to ride it out as long as possible."
Farquhar credited his second career save to second baseman Brad Miller after the rookie infielder robbed pinch-hitter Henry Urrutia of a leadoff base hit with a sensational diving stop to his left, with Farquhar then striking out Matt Wieters and getting Nick Markakis on a fly ball to center.
"That was an unbelievable play by Brad Miller," Farquhar said. "One out, nobody on base is night-and-day difference as opposed to a runner on first, nobody out. I think that play saved the game right there."
The Mariners also got a huge boost from rookie right-hander Yoervis Medina, who replaced Saunders and threw two perfect innings with four strikeouts before turning the lead over to Farquhar.
"The bullpen was huge," said Saunders. "This was a nice win all around. Boston was tough and this was a good bounce-back for all of us."
Greg Johns is a reporter for MLB.com. Follow him on Twitter @GregJohnsMLB as well as his Mariners Musings blog. This story was not subject to the approval of Major League Baseball or its clubs.