Brewers take finale on heels of five-run sixth
Brewers take finale on heels of five-run sixth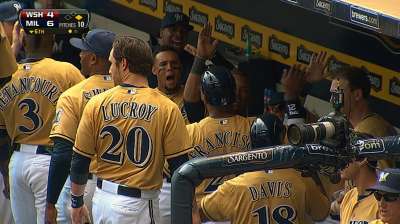 MILWAUKEE -- Not so much as a peep was heard from the Brewers' offense in the first 23 innings of their weekend set against the Nationals. The offense was in hibernation mode, combining for just one run on nine hits against Washington starters Jordan Zimmermann and Dan Haren on Friday and Saturday, and they entered the sixth inning Sunday trailing 4-1 against Taylor Jordan.
Then the bloops and dinks that had been going against them all year started to find holes for the Brewers. With some good fortune, Milwaukee snapped out of its dormant state just in time, batting around in a five-run sixth to swing a 4-1 deficit into a 6-4 lead and salvage a game in the three-game series with an 8-5 win at Miller Park.
A Khris Davis high chopper, followed by a Juan Francisco grounder that tightroped the first-base line and a Jeff Bianchi bloop that floated over a pulled-in infield capped the unlikely rally and snapped the Brewers' three-game losing streak.
"I really enjoyed this," manager Ron Roenicke said. "You get down, 3-0, and you're thinking the offense hasn't been scoring, so it's going to be a little tough. Then you start seeing some good things happen, then a lot of good things happen and it makes you feel good, especially going on a road trip. We've got a tough time ahead of us, so hopefully this is good for their confidence. It should be."
The Brewers entered the sixth inning Sunday 0-for-13 with runners in scoring position in the series, but converted on all three chances in the frame. Milwaukee had also struggled to get runners home from third with less than two outs, but they brought home four runners in that situation Sunday.
"That was the ballgame," Roenicke said.
In a change of roles, the Brewers' offense saved an uncharacteristic start from right-hander Kyle Lohse. Lohse battled through five innings to keep Milwaukee close, but left after giving up three runs (two earned) on five hits while walking two and striking out three.
Lohse entered Sunday with a 2.10 ERA in his last 11 starts, including just one earned run allowed in his last three, spanning 19 innings. But the Nationals jumped on Lohse for three runs in a long, 34-pitch second inning.
The Nationals had two hits in the inning and capitalized on two hit batters and a costly error from catcher Jonathan Lucroy to jump on Lohse for the game's first three runs.
"Not every day is going to be easy, you're not going to get every pitch," Lohse said. "You've just got to go out there and battle and give what you can to keep the team in the game. You keep it close long enough and give these guys a chance, some days it works out like this."
Lohse stranded two baserunners in the second inning and two more in the third to escape further damage.
The teams traded runs on a Francisco RBI groundout in the second and an Adam LaRoche solo home run in the sixth to set up the Brewers' big inning.
"We were sloppy coming out those first few innings, a little frustrated, I think," Roenicke said. "Kyle did a nice job of holding it down and letting us have a chance to catch up."
Jordan entered the sixth with just one run on two hits allowed, but the rally started with a single from Logan Schafer, a double from Jean Segura and a Lucroy walk. After a Carlos Gomez sacrifice fly, Jordan left with one out, a run already in and runners on first and third, still leading 4-2.
Davis, Francisco and Bianchi changed that quickly. Davis, pinch-hitting, greeted left-handed reliever Fernando Abad with a seeing-eye chopper over third baseman Ryan Zimmerman's head to bring the Brewers to within 4-3, and Francisco followed with a double that somehow managed to stay fair inside the first-base line and even the score.
The left-handed-hitting Francisco entered Sunday hitting .111 (3-for-27) against left-handed pitching this season and .167 (15-for-90) in his career.
Replays showed a close play on the bouncing ground ball that landed just in front of the first-base bag before kicking into foul territory. The first baseman, LaRoche, immediately confronted first-base umpire David Rackley and voiced his opinion later.
"I thought it was foul," LaRoche said. "I didn't get a good view of my angle running over. When I came back into the locker room [to look at the video], it was foul. Close, but foul. It was a bad break. There is nothing you can do. I tell [the umpire] what I thought and then ask if he wants to ask for help. He messed up on that one. I feel like they got a good view of it. They won't. After that, nothing you can do."
The Nationals then pulled their infield in with runners on second and third for Bianchi and he made them pay with a soft bloop off the end of his bat over second baseman Anthony Rendon's head, scoring Davis and Francisco for a 6-4 lead.
"It's always good to put up a crooked number like that, a five-spot, especially late in a ballgame," Bianchi said. "Good things happen when you battle."
The Brewers added insurance runs on a Lucroy RBI single in the seventh and a Bianchi suicide squeeze in the eighth.
LaRoche hit his 16th home run in the sixth and Anthony Rendon homered in the seventh, but LaRoche struck out with the potential tying run on first in the eighth before Brewers reliever Brandon Kintzler coaxed Ian Desmond into an inning-ending double play. Kintzler has a 0.76 ERA in his last 18 outings.
"We could've just rolled over and we didn't do that and we beat a pretty good team," Lohse said. "We're going to be playing teams that have a chance at the playoffs and we've got to take pride in making them feel what we're feeling right now."
Kevin Massoth is an associate reporter for MLB.com. This story was not subject to the approval of Major League Baseball or its clubs.