Mesoraco making strides with bat, behind plate
Mesoraco making strides with bat, behind plate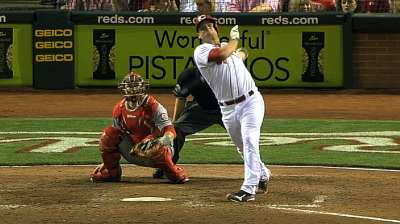 CINCINNATI -- Devin Mesoraco's recent offensive surge, including his first career multi-home run game on Saturday, is what the Reds have expected all along from him at the plate. Behind it, the 25-year-old catcher is still a work in progress.
With Ryan Hanigan on the disabled list since July 11, Mesoraco has handled the majority of the catching duties and taken advantage of the opportunity by batting .333 with four homers and 12 RBIs in his last 15 games, including 12 starts, entering Sunday. But when manager Dusty Baker watches Mesoraco, he's looking at much more than offensive production.
"There's a lot of stuff that goes into being a catcher," Baker said. "It's the toughest position on the field -- mentally and physically. You can't take that strikeout with the bases loaded out on the field, and vice versa, you can't take a bad inning to the plate."
When it comes to catchers, Baker said more often than not a player will excel offensively or defensively, but rarely are they elite in both aspects. However, he hopes Mesoraco, who first played for the Reds in 2011 after being the club's first-round Draft pick in 2007, can be one of the exceptions.
Although he didn't want to compare Mesoraco to anyone specifically, Baker pointed to injured Cardinals backstop Yadier Molina as an example of the progress a catcher can make. Known for his defensive abilities since he broke into the Majors in 2004, Molina gradually improved his bat and was hitting .330 as one of the key pieces in the St. Louis lineup before going on the disabled list at the end of July.
After playing 54 games last season and 18 the year before, Sunday marked Mesoraco's 70th appearance in 2013. Baker said Mesoraco has improved in all facets of the game since last season, but he also expressed the importance of being patient with young catchers.
"It takes a while," Baker said. "And by the time a catcher is 100 percent ready, usually you only get two or three years out of them and they're broken down."
Jeremy Warnemuende is an associate reporter for MLB.com. This story was not subject to the approval of Major League Baseball or its clubs.