Carpenter busts slump as Cardinals bust up Reds
Carpenter busts slump as Cardinals bust up Reds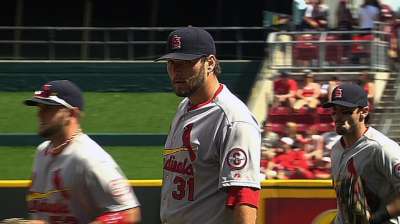 CINCINNATI -- On Sunday, perhaps the most significant contribution to the Cardinals' offense -- a group that has racked up 41 runs over its last three wins -- came from a hitter who had the day off.
Carlos Beltran, given a day off, took Matt Carpenter into the clubhouse during Sunday's matinee and offered some guidance to the scuffling second baseman. Using visual evidence from an at-bat from a few weeks ago, Beltran pinpointed differences in Carpenter's stance and swing and advised him to use his legs more. His suggestions helped Carpenter relax and the All-Star delivered.
Armed with a new approach, Carpenter strolled to the plate in the sixth inning with the bases loaded. He snapped an 0-for-23 skid with a two-run double that broke open the game, which St. Louis eventually claimed, 15-2, over Cincinnati at Great American Ball Park.
"Ever since he told me, I got two hits and a walk," Carpenter said. "So that's pretty good advice."
The Cardinals are migrating back to St. Louis, and they are soaring higher than many thought possible, given the way their road trip began.
St. Louis capped its 11-game, 10-day expedition with yet another convincing win against the Reds. The Cardinals compensated for an 0-7 start to the trip by winning three of their last four contests. They tallied 13 or more runs in each triumph.
"I think they're the toughest and best hitting team there is," said Reds pitcher Tony Cingrani. "There's no taking away from other good hitting teams, but the numbers don't lie. They make you pay."
The Cardinals totaled 41 runs and 50 hits in their three wins during a swing that took them through Atlanta, Pittsburgh and Cincinnati. In the eight losses, St. Louis mustered only 13 runs and 47 hits.
The recent offensive barrage cured just about all of the club's offensive ailments. That includes Carpenter, who had gone 2-for-35 through the first 10 games of the trip before a 2-for-5 showing on Sunday.
"It's a helpless feeling," Carpenter said of the slump. "The battle is to make it feel like you're fine, you're going to get through it, but at the time, it feels like you're never going to get out of it. When you look back at it, it's like, 'OK, it's 10 games.' But 10 games can feel like two years. You just have to keep pushing through it and make your adjustments."
Beltran, an eight-time All-Star with 16 years of big league experience, certainly aided the cause. Carpenter did not hide his appreciation for the outfielder.
"That's really the kind of teammate he is," said Carpenter, who recorded his National League-leading 41st multi-hit game. "He's always trying to help guys out. He saw something in me, sat me down, told me what he saw, told me what I should think about, and that's what I did."
The Cardinals' offense struck in the first inning of each game against Cincinnati. On Sunday, four two-out hits translated into four runs. Matt Holliday's double plated Allen Craig, who had singled. David Freese followed with a double of his own, and he scored when Matt Adams launched a 1-1 changeup into the right-field stands.
The early explosion of runs proved to be plenty for Lance Lynn, who logged his longest outing of the year. In eight innings, the right-hander fanned 11 batters and limited the Reds to two runs on four hits. Lynn has delivered three consecutive quality starts.
"I had pretty good command of all four pitches today," Lynn said. "When you have that, it makes it a lot easier to pitch. I was able to use most of them to both sides of the plate."
Lynn did not pitch under much duress, thanks to St. Louis' relentless hitting attack. The first seven Cardinals batters reached base in the sixth inning. Holliday, Freese, Adams and Tony Cruz all singled and Daniel Descalso doubled. Lynn then reached on an error before Carpenter unveiled his new technique and stroked a double to right.
Freese tacked on a leadoff homer in the seventh and Craig added an RBI single in the eighth. In the ninth, Cruz homered, Rob Johnson provided an RBI double and Jon Jay plated a pair of runs with a double to left-center.
"The bats really took off," Carpenter said. "It was fun to be a part of."
Now, the Cardinals retreat to St. Louis for a 10-game homestand at Busch Stadium, where they own a 32-18 record. Despite a miserable start to the road swing, they head home on a high note.
All it took was a few hits. And a little advice.
"That's a great feeling," Carpenter said of breaking free from his slump, "but even better to watch us come out and win a series in a convincing fashion like that."
Zack Meisel is a reporter for MLB.com. Follow him on Twitter @zackmeisel. This story was not subject to the approval of Major League Baseball or its clubs.