Leake's rocky start trips up Reds in finale
Leake's rocky start trips up Reds in finale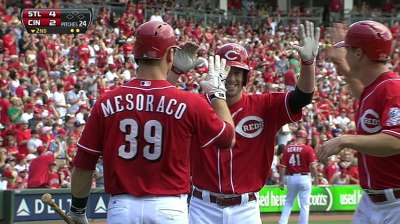 CINCINNATI -- In a predictably quiet and mostly empty clubhouse, starting pitcher Mike Leake wondered what the Reds needed to do to beat the Cardinals. The latest victim of the best offense in baseball, Leake lasted five-plus innings and gave up seven runs in a 15-2 rout on Sunday at Great American Ball Park, moving Cincinnati to 4-8 against St. Louis this season and 0-6 in the last six series between the two clubs.
And the more Leake thought about what needed to change for the Reds to find success against their National League Central rivals, the less he seemed to know.
"They got our number for sure," Leake said. "They play us tough. It's on us to try to figure them out because they got us figured out for the most part. But it's our job to figure them out a little bit better."
Sunday marked the fifth time Cincinnati lost to St. Louis this season by seven or more runs. The 15 runs allowed by the Reds was the most they've given up all season, while the 19 hits fell one short of matching a season high. Despite a win on Saturday, the Reds were outscored 31-13 over the weekend, as Cincinnati pitching surrendered more runs than any three-game series since August 2010.
From top to bottom, St. Louis dominated Reds pitching in Sunday's finale, as nine Cardinals collected at least one hit and eight notched multi-hit games.
"I don't know if it's the way they home grow their guys and how they develop them, but they're never out of it," Leake said of the Cardinals. "Even if you get two strikes, they all seem into the at-bats every time. They're not an easy out by any means."
For the third straight game, the scoring started immediately in the first inning.
Leake entered his 22nd start of the season having given up four runs combined in his last three outings. On Sunday, he matched that total in the first six batters of the game.
After retiring Matt Carpenter and Jon Jay to open the top of the first, Leake gave up four straight hits. Allen Craig started the two-out rally with a single, which was followed by back-to-back doubles and a two-run homer off the bat of Matt Adams.
Leake's early struggles came two days after Bronson Arroyo also gave up four runs in the first inning en route to a 13-3 loss to open the series. Sunday's final result was much of the same, as the offense barely did enough to even threaten a comeback.
Following a scoreless bottom of the first, the Reds were able to cut into the four-run deficit in the next inning, when Zack Cozart hit his ninth home run -- a two-run blast to the upper deck in left field. However, that homer and the single from Jay Bruce two batters prior were Cincinnati's only two hits in the first six innings.
By the time Joey Votto led off the seventh with a single for the team's third hit of the day, the Cardinals had already blown the game wide open.
The Reds are now 3-7 in their last 10 games, and in the losses, they've combined to score just 10 runs. Manager Dusty Baker has been adamant all season that the offense would perform to its potential, and he stuck by that on Sunday.
"There's a lot of people that want you to give up now," Baker said. "I don't want to give up. If you've ever been around me or know me, I don't give up. People go, 'Oh, he's just an optimist.' No, I don't give up."
Right-hander Lance Lynn was the primary obstacle for the Reds on Sunday, giving up two runs on just four hits while striking out 11 in eight innings.
"He had everything working," Cardinals manager Mike Matheny said. "He was working both sides and expanding the zone well. He was more efficient than we've seen him in a long time, pounding the strike zone, trusting the sink, trusting his defense, and it worked out well."
Meanwhile, Leake settled in after the top of the first for four consecutive scoreless innings, but he failed to record an out in the sixth before being chased by three straight singles, the last of which drove in Matt Holliday. The Cardinals went on to score five runs in the inning to take a 9-2 lead.
Already holding a commanding advantage, St. Louis tacked on another run in the seventh on a David Freese solo blast and one more in the eighth thanks to an RBI single by Craig before plating four to cap off their scoring in the ninth.
"This was disheartening," said righty reliever Sam LeCure, who allowed four runs on five hits in one inning. "It just [stunk]. Losing games is one thing, but going out there and getting embarrassed in front of your fans who are showing up to support you is another, and we did just that."
With the loss, Cincinnati sits five games behind the second-place Cardinals and 6 1/2 behind the first-place Pirates, who won Sunday, in the division race. The Reds and Cardinals will meet seven more times this season, and although the Reds still sit in playoff position, LeCure said the team needs to get it together quickly.
"We have some things to work on," LeCure said. "We have some things we need to address, and thankfully we have a little bit of time. Like I said, we're running out of tomorrows, but we do have a little bit of time. But we do have some time to get it right, and we can make up some ground because we're capable of getting real hot."
Jeremy Warnemuende is an associate reporter for MLB.com. This story was not subject to the approval of Major League Baseball or its clubs.