Offense stays hot to back Weaver vs. Toronto
Offense stays hot to back Weaver vs. Toronto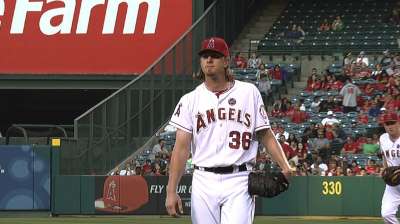 ANAHEIM -- When Jered Weaver is at his best, he does not need a ton of run support, but that doesn't mean it isn't nice to have every once in a while.
Entering Saturday, the Angels had scored just eight runs over Weaver's past four starts, but he had made it work and left with a lead in three of those four outings.
Then on Saturday night, the ace was not at his best, but he didn't need to be as the Angels defeated the Blue Jays, 7-3, at Angel Stadium.
"'Weave' got deep into the game, maybe not as crisp as we've seen him the last couple times but definitely had enough stuff," Angels manager Mike Scioscia said. "He pitched a strong game for us."
The Angels' offense has had its ebbs and flows this season, but it is in the midst of a hot streak. Over the past seven games, the Angels are averaging more than six runs per game and have scored three or more runs in five separate innings this series.
"Guys have been having good at-bats," Howie Kendrick said. "We've been getting some pitches to hit and haven't really missed them. You go through phases where you're going to hit pitches and phases where you're going to get into some outs, but lately everybody has been swinging the bat well."
While the offense was giving Blue Jays starter Esmil Rogers trouble, Weaver was in control against the Toronto lineup.
Weaver (6-5) allowed three runs on seven hits over 7 2/3 innings, and the right-hander saw his Angel Stadium scoreless streak end at 26 1/3 innings when Brett Lawrie hit a solo home run to left field in the third.
"I felt good, location was good," Weaver said. "Slider wasn't quite there today, had a little trouble finding that, and it made it a little bit tougher for me on righties. Had to try to mix in some other pitches because the slider wasn't on."
In his last 29 1/3 innings, Weaver has allowed just four runs.
In all three games of the series -- each resulting in Angels victories -- the club struck early, and Saturday was no different. In the first inning, the Angels sent eight batters to the plate, collecting five hits and scoring three times.
"One thing is setting the table and hitting with runners in scoring position -- 4-for-6 tonight," Scioscia said. "Howie had some key hits for us. I just think that those clutch hits, which maybe weren't there in the Texas series, showed up here and we needed them."
Mike Trout started the action as he singled and reached base for the 34th consecutive game. Josh Hamilton, coming off an 0-for-5 performance on Friday, followed with a single of his own. Kendrick then singled to extend his hitting streak to a season-high eight games, loading the bases with one out. After Mark Trumbo drove in the game's first run via a fielder's choice, Erick Aybar added an RBI single and Chris Nelson did the same.
The Angels then blew the game open in the fifth with four more runs.
Kole Calhoun led off the inning with a solo home run to right field -- his second career homer in as many games. Trout then was hit by a pitch, and Hamilton and Kendrick followed with singles.
Upon fielding Kendrick's RBI hit, Blue Jays center fielder Colby Rasmus threw home in an attempt to prevent Trout from scoring from second. Kendrick took off for second, prompting a throw from catcher J.P. Arencibia that sailed into center field, allowing Hamilton and Kendrick to score.
"I should have ate that ball," Arencibia said. "I thought I had time to make a throw to second to try and force the issue. Like I said, it's an aggressive mistake, my thought process is to get an out there, try to change the inning a little bit. Obviously throwing it into center field wasn't what was planned."
The three-win streak is the Angels' longest since their seven-game streak concluded July 2. Although the team remains seven games under .500, it is not calling it quits and is focused on the 53 games remaining rather than the 109 in the books.
"We're not looking back," Scioscia said. "We're looking forward. We're going to make a run, we just need to get that continuity there."
William Boor is an associate reporter for MLB.com. This story was not subject to the approval of Major League Baseball or its clubs.