Giants falter in 10th after Lincecum's gem
Giants falter in 10th after Lincecum's gem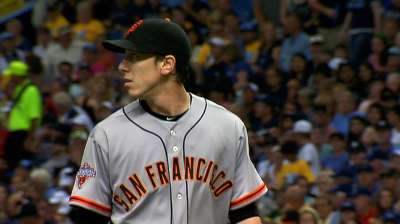 ST. PETERSBURG -- Tim Lincecum's pitching led the Giants during Saturday night's game. They'd also be wise to heed the simple advice he issued following their 2-1, 10-inning loss to the Tampa Bay Rays.
"You want to touch on those positives," Lincecum said, referring to the redeeming aspects of the Giants' performance, "and use them as a springboard. I use that term a lot, but I think it's necessary in this case."
Clinging to optimism was necessary after Wil Myers' bases-loaded single broke a 10th-inning tie and ended the Giants' three-game winning streak.
It was necessary after San Francisco's first through sixth hitters went 1-for-24 off Rays ace David Price and closer Fernando Rodney.
And it was necessary after the Giants squandered the scoring opportunities they generated by going 1-for-8 with runners in scoring position.
By contrast, the Rays seized their opportunity in the 10th. Jean Machi (2-1), the Giants' fifth reliever, walked Desmond Jennings to open the inning with the score even at 1. Jennings stole second base as shortstop Brandon Crawford couldn't hold onto catcher Buster Posey's low throw. That prompted an intentional walk to Ben Zobrist. Machi proceeded to issue a four-pitch walk to Evan Longoria, who was mired in an 0-for-17 slump.
That loaded the bases for Myers, the heralded 22-year-old rookie, who belted Machi's 0-1 pitch to the left-field warning track with the outfield playing shallow to cut off a runner at home plate.
San Francisco thus wasted another strong effort by Lincecum, though that's not news. He has received two runs of support or fewer in 14 of his 22 starts, representing the worst backing on the Giants' staff. Undaunted, Lincecum matched Price through seven innings while surrendering one run and six hits. This was only the second confrontation in Rays history involving Cy Young Award-winning pitchers, and it didn't disappoint.
Continuing his resurgence, Lincecum has worked at least seven innings in four of his last five outings. Before that stretch, he lasted seven innings just once in five starts.
Lincecum struck out five, including All-Star third baseman Longoria three times. Except for the third inning, when Tampa Bay scored its only run off him, Lincecum allowed just one runner past first base. Posey helped in that regard during the fourth inning by backing up first base and throwing to second to retire Myers, who had beaten out an infield hit and was trying to advance on second baseman Joaquin Arias' awry throw.
"I think I've kind of stuck to my game plan and my pitch plan with my catcher," Lincecum said, explaining his success. "That's kind of alleviating any kind of stress or would-be pressure. Taking that kind of know-how to the field is going to give me a little bit more of a mental edge when I pitch."
The Giants gave Lincecum a modest 1-0 lead in the third inning. Jeff Francoeur, who went 3-for-4, singled leading off, broke for second base while Arias grounded out and scored on Crawford's single up the middle. That interrupted a 1-for-25 skid against left-handers for Crawford, the lone left-handed hitter in the Giants' lineup against the left-handed Price.
Tampa Bay pulled even in its half of the third. Jose Molina walked leading off and moved to second base on a wild pitch. Kelly Johnson tapped a grounder to first baseman Brett Pill, who fielded the ball as Lincecum ran to cover the bag. Pill opted to try to tag Johnson but found Lincecum blocking his path. Johnson reached base safely, leaving runners at the corners. Lincecum induced Jennings' popup, but Molina scored on Zobrist's fielder's-choice grounder.
"We just got kind of tangled up over there," Lincecum said of his all-too-close encounter with Pill. "I can see that he wanted to cover first on his own and I was just kind of in the way of that."
Giants manager Bruce Bochy wasn't critical about what transpired, but he wasn't happy, either.
"That cheap run hurt, no question," he said.
The Giants mounted little offense against Price, cheap or otherwise. He lasted nine innings and surrendered five hits, including only one in the final four innings. He walked none and has issued just one free pass in 57 1/3 innings spanning seven starts since returning from a strained triceps.
"When he first came up he was a straight fastball guy," Francoeur said. "As good as he was, now he's throwing cutters, changeups, curveballs. He's developed into an elite pitcher. We knew it wasn't going to be a night when we scored seven or eight runs."
Taking a cue from Lincecum, Francoeur remained upbeat.
"We have a chance to get two out of three [by winning Sunday] and make this a 4-2 road trip," he said. "You can't complain about that, especially against the Rays and in Philadelphia, a tough place to play. If we can [finish] 4-2, we'll feel good about ourselves getting on the plane."
Chris Haft is a reporter for MLB.com. This story was not subject to the approval of Major League Baseball or its clubs.