Peavy rewarded with win in Red Sox debut
Peavy rewarded with win in Red Sox debut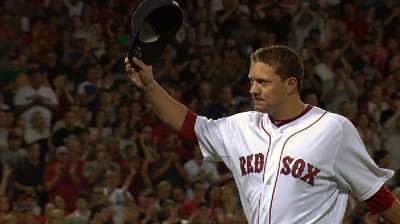 BOSTON -- Blaring over the speakers at Fenway Park on Saturday night, Lynyrd Skynyrd's "Sweet Home Alabama" greeted Jake Peavy before his first outing as a member of the Red Sox.
As he departed with a two-run lead one batter into the eighth inning, the 37,941 at Fenway welcomed the Alabama native to his new home with a rousing ovation that followed him off the field. Peavy responded with a tip of his cap.
"Truly from the bottom of my heart, something I'll never forget," he said.
The 32-year-old right-hander was brilliant in his Red Sox debut, giving up just four hits and two runs over seven-plus innings against the D-backs as part of a 5-2 win.
Acquired from the Chicago White Sox earlier this week, the veteran is supposed to be the piece that takes the Red Sox to the next level -- from playoff contenders to World Series contenders. Through one start at least, the investment, for which Jose Iglesias and a pair of Minor Leaguers were the price tag, looks to be money well spent.
"Winning is what it's about," Peavy said. "I don't care where you win. I don't care if you win at ping-pong in the clubhouse. It's fun to win, and that's why we all show up to the ballpark every day is to find a way for your team to win. I can't tell you how excited I was tonight. I told a few guys I had some nerves. Obviously around 300 starts, I felt like it was one of my first."
Ever since his arrival, Peavy's competitiveness on the mound has been lauded by those who have had a chance to witness it. On Saturday, the Sox saw it first-hand. Peavy shouted into his glove after missing on pitches, and he routinely challenged hitters with his fastball.
"It's a breath of fresh air," said Red Sox manager John Farrell. "Just raw competitive spirit."
Peavy struck out seven and walked two, throwing 99 pitches in his seven-plus innings. He commanded a fastball that topped out at 93 mph and seemed comfortable going to his offspeed pitches deep in counts.
Due to Peavy's poor eyesight -- he's legally blind without his corrective lenses -- catcher Jarrod Saltalamacchia had to wear brightly colored stickers on his fingernails so Peavy could tell the pitches he was calling.
It was just part of the adjustment a catcher has to make when a new pitcher comes to town. The pair met for about a half-hour before the game to talk about strategy, and one start into what the Red Sox hope is many more, there appeared to be chemistry.
"I just kind of set up on the corners and let him make his pitches how he wants to," said Saltalamacchia, who added a two-run insurance homer in the eighth.
If it weren't for Jonny Gomes, Peavy likely wouldn't have earned the win for his efforts. Gomes threw out Cliff Pennington, who represented the game's tying run, at the plate in the eighth inning.
Peavy had 97 pitches through seven innings, but Farrell opted to send him back out for the eighth.
"We had planned to match up [with Peavy] through that inning," Farrell said. "With [Wil Nieves], as well as he's swinging the bat, we wanted a right-hander against him."
But Nieves singled on a misplaced cutter and Peavy was immediately taken out of the game.
After Craig Breslow loaded the bases without recording an out, Junichi Tazawa entered and surrendered a leadoff single. One run scored easily, but Gomes' throw preserved the Sox's lead.
Peavy grinned when asked about the play after the game.
"Jonny Gomes might be my favorite player in the big leagues," he said.
"Koji [Uehara] gets credit for the save, but the throw from left field might have been the save," said Farrell.
Boston's offense combined for nine hits, eight of which came off Arizona's Cy Young Award contender Patrick Corbin.
With a one-run lead in the eighth, Saltalamacchia provided some breathing room with a two-run homer that Uehara caught while warming up in the right-field bullpen.
Shane Victorino also had two RBIs on the night, including a solo home run off Corbin that tied the game in the fifth inning.
After six-plus innings of three-run ball, Corbin was handed just his third loss of the year, compared to 12 wins.
"In the seventh inning, Patrick ran out of gas a little bit. He made some pitches where he didn't want them," said Arizona manager Kirk Gibson. "Boston, what they do is they see a lot pitches and they foul a lot of pitches off. They got his pitch count up."
The victory gave Boston a split through the first two games of the series, with a rubber match to come on Sunday. The Red Sox are 8-3 in Interleague games this season and still one game up on the Rays in the American League East.
Peavy was all smiles after the game with his two sons watching as he took questions from reporters.
He left a White Sox team that was out of the pennant race in the American League Central. Now that he's in Boston, there will be more pressure and more scrutiny that comes with a playoff race. According to Peavy, he wouldn't have it any other way.
"There will be nobody in Boston media-wise, fan-wise, any guys I play with who expect any more out of me than I expect out of myself. That's just a product of how I was raised, and I expect a lot out of myself in life period," Peavy said. "I'm excited there's a lot of expectations around the Boston Red Sox, and I hope to be a contributing factor and I expect that."
Michael Periatt is an associate reporter for MLB.com. This story was not subject to the approval of Major League Baseball or its clubs.