Danks, White Sox outmatched as slide continues
Danks, White Sox outmatched as slide continues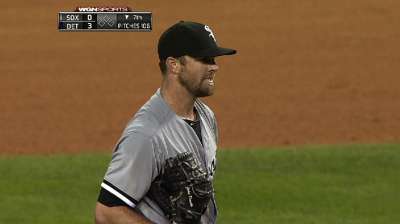 DETROIT -- Adam Dunn has played on five teams that have lost 90 games or more in a single season, including the 2009 Nationals, who dropped 103.
Yet, the designated hitter never has been part of a squad as perplexing or frustrating as his 2013 White Sox.
"I've been on some bad teams, but …" said a noticeably frustrated Dunn after the White Sox were shut out for the 11th time this season in a 3-0 Detroit victory before 43,906 fans on Saturday night at Comerica Park.
"Everybody keeps saying … it really is unbelievable," continued Dunn, searching for the right words to explain the 40-68 disappointment. "I know we have guys who can hit, I know we have guys who can pitch. For us to be doing what we're doing, there's no excuse."
As Dunn said at the start of Saturday's brief postgame interview, it's the same story every night for the White Sox. They have lost a season-worst nine straight and 12 of their last 13, featuring enough pitching to be successful but not nearly enough offense.
The starting rotation holds a 2.72 ERA over these nine straight losses. The White Sox have scored more than two runs in just two of those defeats, scored just two runs in their last 28 innings and the season-long issue clearly is that no quick fix exists.
"You've got to touch home plate," said White Sox manager Robin Ventura in a direct tone as to how the offense can get better. "You get a couple guys on, but it's one of those you got to be able to add on and not just get a couple guys on. They've got to cross home."
"We try to improve," Dunn said. "We haven't done it."
Dunn had one of four singles off of Max Scherzer, Jose Veras and Joaquin Benoit (12th save), with Connor Gillaspie, Alex Rios and Alejandro De Aza also connecting. While the White Sox were scrapping for baserunners, the Tigers (63-45) were clearing the fence against John Danks (2-9).
Torii Hunter, Jhonny Peralta and Jose Iglesias all went deep against the southpaw, with Iglesias' fourth-inning shot serving as his first homer with Detroit. It was Prince Fielder, Austin Jackson and Hunter who homered against Danks on July 24 in Chicago, accounting for the six long balls Danks has yielded over 14 innings when facing the Tigers in 2013.
Danks actually was sharp overall, striking out six and walking one over seven innings and 107 pitches. But those homers were all the support Scherzer needed in improving to 16-1.
"He was mixing it up with his cutter, curveball and good changeup," said Tigers second baseman Ramon Santiago said of Danks. "He's a pretty good pitcher."
"I've got to keep the ball in the park," said Danks, whose season home run total rose to 20 over 89 2/3 innings, thanks to eight given up in his last 27 innings, tying him with Dylan Axelrod for the overall team lead. "Although they were all solo, they obviously burned me. So it's something we're working on and a couple I thought were decent pitches and they just hit them. But they're homers."
Scherzer worked 7 2/3 innings, battling through a lack of complete sharpness early thanks to a four-pitch fourth inning. He finished with six strikeouts and three walks, benefitting from top-notch defense behind him sparked by Jackson in center.
"Alex [Avila] and I had a good game plan and we thought we could attack them," said Scherzer of beating the White Sox. "Obviously we were, and we were successful tonight."
"In the past, you would get one or two pitches to hit and you would capitalize," said Dunn of Scherzer. "He doesn't walk guys like he used to and his stuff is as good, if not the best, in the game."
That same compliment cannot be paid to the White Sox offense.
When asked after the loss how he keeps from personally losing it and the same for the team in general while dealing with all this failure, Dunn said that pride hopefully takes over. Playing for personal pride really is all that's left for the White Sox over the final 54 games.
"Swallow this one, come back tomorrow and play good baseball. Ride the ship and get better," Dunn said. "The thing that's frustrating, we have guys in the cage doing early hitting every day and we're just not getting it done."
"You're never numb to it," said Ventura of the latest extended losing streak. "I don't think that's the word. You just get frustrated and you wait for it to turn. When you struggle, that's part of it. I think your frustration sets in, but you still have to be able to block it out and play."
Scott Merkin is a reporter for MLB.com. Read his blog, Merk's Works, and follow him on Twitter @scottmerkin. This story was not subject to the approval of Major League Baseball or its clubs.