Frieri regains poise with save against Blue Jays
Frieri regains poise with save against Blue Jays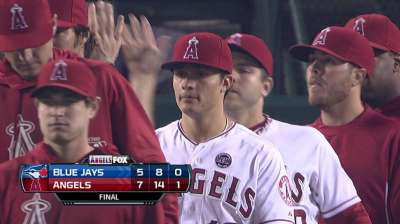 ANAHEIM -- The Angels began the week losing three games in walk-off fashion to the Rangers, and while the losses were hard on everyone, they were especially rough on closer Ernesto Frieri.
In the three-game set, Frieri blew two saves and allowed three runs over a combined 1 1/3 innings.
This, coupled with an outing in which he gave up five runs in one-third of an inning to the Twins, prompted manager Mike Scioscia to say the Angels would "match up" in the ninth inning.
However, with a 7-5 lead in the ninth inning Friday, Scioscia called on Frieri, and the closer answered the call with his 26th save of the season.
"He got his confidence back, which is nice," catcher Chris Iannetta said. "It shows a lot of his character and what he's made of, to go through what he went through, then come back and nail it down for us."
Frieri never had any doubt.
"I knew that it was going to happen," Frieri said. "I knew I was going to go back to the Ernie that everybody knows. I just need to keep doing what I did last night, making pitches. Whenever I do that, I'm going to get people out."
Frieri struck out the side, working around a one-out double to Brett Lawrie, and regained his old mentality in the process.
"The first hitter I was trying to focus on just hitting my spot, not missing it," Frieri said. "And then I was like, 'Wait, wait this is not me, stop thinking so much and let it go.' After that, you could see I was a little more aggressive, and that's me."
William Boor is an associate reporter for MLB.com. This story was not subject to the approval of Major League Baseball or its clubs.