Swarzak, dominant 'pen carry Twins to victory
Swarzak, dominant 'pen carry Twins to victory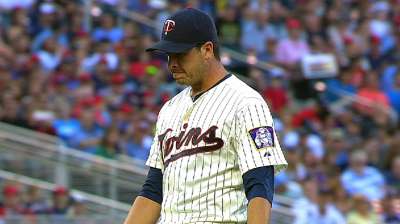 MINNEAPOLIS -- The last two nights, the Twins have needed 13 innings of work from their bullpen. Most of the time, that's not a recipe for success, but after two hard-fought wins, the Twins aren't going to quibble over details.
Four relief pitchers combined to shut down the Astros over the final six innings on Saturday, and the Twins rallied with three runs in the seventh to pull out a 6-4 victory in front of a sellout crowd at Target Field.
A short start from Kyle Gibson put the bullpen on the spot again, one night after a 13-inning game forced six of Minnesota's eight relievers to handle the final seven innings. But over the last two nights, each of those eight relievers has thrown at least one scoreless inning, combining to allow one run on four hits with one walk and 16 strikeouts.
"It's huge for the morale in the bullpen to be able to come in and throw up zeros when the team needs us to," said Anthony Swarzak, who took over for Gibson in the fourth and tossed three no-hit innings. "We all kind of feed off each other down there. When one guy does good, the next guy wants to go out there and do a little better. That's what it takes, friendly competition to push you to the next level. Right now, we're all having some fun out there and it's showing."
Brian Duensing (4-1) threw a scoreless seventh and earned the win when the Twins' offense plated three runs in the bottom half of the inning. Casey Fien pitched a 1-2-3 eighth and Glen Perkins closed it out with his 26th save in 29 chances this year.
The impact of the bullpen, and especially Swarzak, was not lost on Twins manager Ron Gardenhire.
"Swarzak was the star of the game for us -- he came in and gave us three big innings, especially after 13 innings last night," Gardenhire said. "That was a huge pick-us-up."
The Twins batted around in the seventh inning, scoring three runs to take the lead for good. Brian Dozier, who drove in the tying and winning runs on Friday night, scored Clete Thomas with a one-out double to tie the game at 4.
After an intentional walk to Joe Mauer and another walk to Justin Morneau loaded the bases, Ryan Doumit singled to center to give the Twins a 5-4 lead. One out later, reliever Lucas Harrell (5-12) walked Oswaldo Arcia to push across Minnesota's final run, thrilling their sixth sellout crowd of the season -- which included a Target Field-record walkup of 4,582.
"The fans have been fantastic -- they're packing this place, and they keep you motivated," Gardenhire said. "They're screaming and hollering every time we get a man on, and the guys are into that. That's big stuff for us. In the dugout, guys are hooting and hollering and they're getting after the game pretty hard."
It wasn't a complete success for the Twins, however, as Gibson's struggles continued. Making his seventh career start, the rookie right-hander once again had trouble with his command in the strike zone. He surrendered four runs on nine hits before he was yanked, having labored through 81 pitches in just three innings.
But the Twins aren't about to give up on one of their top young prospects, a pitcher who's still less than two years out from undergoing Tommy John surgery.
"Little tough for Gibby -- I think we all saw it," Gardenhire said. "He just didn't command the strike zone again, and they were jumping on the first pitch when he did try to throw it over. It's all about locating with him and working ahead in the count ... we'll take a step back and get him ready for his next start and go from there. It looks to me like he's trying to overthrow the ball and just do too much, and he's got such good movement, he doesn't need to that."
After allowing a first-inning run on an RBI double by Jose Altuve, Gibson wiggled out of a bases-loaded jam unscathed in the second. But he couldn't bail himself out of trouble in the third inning, surrendering five straight two-out hits to spell the end of his night.
Brett Wallace began the onslaught with a solo homer into the bullpen in left-center, cutting Houston's deficit to one. Matt Dominguez followed with a double, then consecutive singles by Robbie Grossman, Brandon Barnes and L.J. Hoes resulted in two more runs. Gibson finally got out of the inning by striking out Jonathan Villar, but that was his last batter of the night.
"We got off to a good start, and we wanted to keep putting pressure on them and put up more runs and keep it going, but their bullpen did a good job of attacking the zone and keeping guys off balance," Wallace said. "We've just got to do everything we can to scratch and claw and get a couple of more there and give us more of a cushion. You have to give them credit, too, because they did a good job of attacking us."
Patrick Donnelly is a contributor to MLB.com. This story was not subject to the approval of Major League Baseball or its clubs.