Bullpen woes at forefront as Astros fall
Bullpen woes at forefront as Astros fall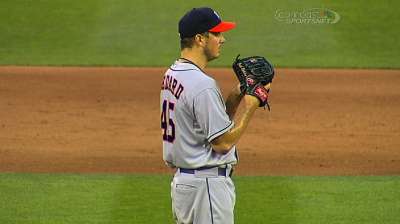 MINNEAPOLIS -- The frustration was evident on the face of manager Bo Porter, who has tried to keep things upbeat through an increasingly discouraging season. The frustration was evident in the words of pitcher Lucas Harrell, who drew a line in the sand about his future with the club.
These are certainly difficult and perplexing times for an Astros team that for the second night in a row found it impossible to protect a late lead and has struggled closing out games in the wake of trading closer Jose Veras to the Tigers on Monday.
The culprit Saturday night at Target Field was struggling starter-turned-reliever Harrell, who suffered the team's 18th blown save of the season by allowing three runs in the seventh inning in a 6-4, body-blow loss to the Twins.
"This being my first year as a manager and being in baseball as long as I've been in baseball, this is arguably the toughest stretch I've witnessed -- whether it's as a player, manager -- of bullpen woes," Porter said. "It's very frustrating, but at the same time, it's one of those things no one is going to feel sorry for you, and it's going to take the men in this clubhouse and staff here to get it straightened out. It is what it is. It's every man to himself and looking himself in the mirror and saying, 'I need to do a better job.'"
The Astros blew a pair of late one-run leads on Friday night and on Saturday were in position again to get a much-needed win. They led, 4-3, entering the seventh and gave the ball to Harrell, who was pulled from the rotation a month ago, but was coming off a spot start Tuesday in Baltimore.
The Twins sent nine batters to the plate in the inning and scored three runs on the strength of three hits and three walks to take a 6-4 lead and force Harrell to ponder his future with the club.
"If I don't pitch better, I'm going to be gone," he said. "Realistically, that's the way it is. Hopefully, they'll give me another chance to go back out and finish the rest of the year and have a couple of good outings and end on the high note."
Harrell was probably the Astros' biggest bright spot of the 2012 season, going 11-11 with a 3.76 ERA in a team-high 32 starts. He was entrenched in the rotation entering this season before getting moved to the bullpen a month ago following an up-and-down three months.
The loss was his 12th of the season, which is the second most in baseball.
"It's just how the season's gone right now for me," Harrell said. "Not a lot you can say about it. I've been bad, and it showed tonight. I lost the game for the team."
Porter said Harrell's struggles came down to fastball command, but Harrell bristled at the idea when asked about having command issues.
"My command hasn't been that bad," he said. "The walks, I've missed close a lot. I felt like a lot of pitches could have gone either way. Everyone says my command's off. My command's not off. They just look at the walk numbers and they say that, but that's not it."
Astros shortstop Jonathan Villar led off the game with a single on the second pitch and stole second ahead of a ground-rule double by Jose Altuve. The Twins put the leadoff hitter on base in each of the first five innings against Erik Bedard, including leadoff triples by Brian Dozier in the first and Oswaldo Arcia in the second, that helped the Twins build a 3-1 lead.
The Astros rallied with five consecutive hits after two outs in the third inning, beginning with a home run by Brett Wallace. Matt Dominguez doubled and scored to tie the game on a single by Robbie Grossman, who scored on an L.J. Hoes single to put the Astros ahead, 4-3.
"We got off to a good start, and we wanted to keep putting pressure on them and put up more runs and keep it going, but their bullpen did a good job of attacking the zone and keeping guys off balance," Wallace said. "We've just got to do everything we can to scratch and claw and get a couple of more there and give us more of a cushion. You have to give them credit, too, because they did a good job of attacking us."
Minnesota's bullpen combined to hold the Astros to one hit and one walk in six scoreless innings after starter Kyle Gibson was rocked for four runs and nine hits in three innings. Twins relievers struck the Astros out 10 times, giving Minnesota 12 punch-outs.
"It's huge for the team. It's huge for the morale in the bullpen to be able to come in and throw up zeros when the team needs us to," said reliever Anthony Swarzak, who threw three scoreless innings. "We all kind of feed off each other down there. When one guy does good, the next guy wants to go out there and do a little better. That's what it takes, friendly competition to push you to the next level. Right now, we're all having some fun out there, and it's showing."
Brian McTaggart is a reporter for MLB.com and writes an MLBlog, Tag's Lines. Follow @brianmctaggart on Twitter. This story was not subject to the approval of Major League Baseball or its clubs.