Scioscia weighs great grabs by Shuck, Trout
Scioscia weighs great grabs by Shuck, Trout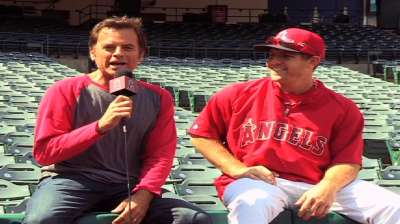 ANAHEIM -- J.B. Shuck may have made the catch of the year when he robbed a potential two-run home run and fell into the left-field stands in the fourth inning of Friday night's game.
The catch has been replayed countless times, photos and GIFs flooded social media, and the play was also No. 1 on SportsCenter's Top 10.
Shuck's grab has drawn a lot of attention, and deservedly so, but Angels manager Mike Scioscia still feels the catch Mike Trout made in Baltimore on June 27 last year was better.
"I've got to go with Trout's because of the distance he covered," Scioscia said. "J.B. got to the ball quicker and got a little more settled. Mike basically was at a pure sprint when he made his leap and caught that ball."
After comparing Trout's heroics with Shuck's, Scioscia was then asked to consider the catch Peter Bourjos made against the Orioles this June.
However, his answer did not change.
"That was pretty good, but I'd go with Trout," Scioscia said.
William Boor is an associate reporter for MLB.com. This story was not subject to the approval of Major League Baseball or its clubs.