Speed helps Cleveland bounce back vs. Miami
Speed helps Cleveland bounce back vs. Miami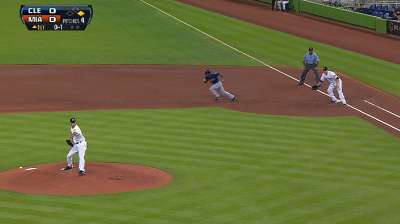 MIAMI -- Michael Bourn nonchalantly strolled away from first base in the seventh inning on Saturday night, hands on his hips, eyes glancing around the infield. Marlins lefty Dan Jennings became set on the mound, and first baseman Logan Morrison shuffled a few steps back.
The situation was setting up perfectly, and it would help lead to a 4-3 Indians victory over the Marlins. Bourn looked to his right toward second base, where Drew Stubbs worked on increasing his own lead. The public address announcer at Marlins Park could have informed the entire stadium that Cleveland was about to attempt a double steal, and it would not have mattered.
That is the type of speed Bourn and Stubbs possess.
"Those guys can create runs that other people can't," Indians second baseman Jason Kipnis said.
Speed played an integral role in the Indians' Interleague victory, giving Cleveland nine wins in its past 10 games as the club tries to keep pace with American League Central-leading Detroit. Zach McAllister gave the Tribe an admirable start, and the team sidestepped some drama in the ninth, but it was the work on the basepaths that paved the way to the win column.
The Indians (61-49) piled up six stolen bases, representing the most in one game for the team since posting the same total against the Red Sox on Sept. 21, 2000. Bourn led the charge by equaling his career best of three thefts -- something he had not done since May 15, 2010. Stubbs had two stolen bases in Cleveland's momentum-swinging seventh inning.
That game-deciding frame provided a snapshot of the Tribe's ability to run.
"Every game is different," Indians manager Terry Francona said. "We've tried to just run when it's in our favor, and tonight our guys did a very good job."
In the seventh, Stubbs led off with a single before promptly swiping second against Jennings, who entered in relief of starter Jacob Turner. After Bourn worked a walk, Cleveland found itself in a position to have two of baseball's swiftest baserunners advance another 90 feet apiece.
On a 1-0 pitch to Nick Swisher, Stubbs bolted for third base as soon as Jennings' right foot lifted from the dirt of the mound. Bourn, keeping his eyes on Stubbs, sprinted for second when his saw his teammate's dash. Marlins catcher Rob Brantly rifled a throw up the line, but Stubbs slid in just ahead of the tag from third baseman Ed Lucas.
"Those guys have been the National League's one and two in stolen bags for the last few years," Kipnis said of Bourn and Stubbs, who were acquired by the Indians over the winter. "I thought they got pretty good jumps, and Drew was definitely safe at third. He got his foot in there."
Following the successful double steal, Nick Swisher drew a free pass to load the bases for Kipnis, who ripped a pitch from Jennings into center field for a two-run single that pushed the Tribe in front, 4-2.
On the play, Marlins center fielder Jake Marisnick gloved the roller and came up firing to home plate in an effort to nab Bourn. Brantly received the throw and spun to apply the tag, but Bourn slid feet-first and brushed the plate before the catcher could get the out. Much to the dismay of Brantly and Marlins manager Mike Redmond, home-plate umpire Angel Hernandez ruled Bourn safe, and replays backed up the call.
"Busy night out there," Redmond said. "A few close calls, and I don't know one way or the other whether those were actually safe or out, but a lot of close plays there that didn't go our way. It could have kept us from going down a couple of runs, but we also gave away a couple of runs, too."
McAllister walked away with a no-decision, as Cleveland's winning push came a half-inning after his exit. The big right-hander did, however, set the tone for the Indians after they were taken down, 10-0, by the Marlins (43-66) on Friday night. McAllister breezed through 16 hitters in the first five innings without relinquishing a hit.
It was not until the sixth inning that McAllister flinched, allowing a clean leadoff single to center field by Brantly. Christian Yelich later delivered a run-scoring double, and Lucas added an RBI single, pulling the game into a 2-2 deadlock and ending McAllister's night. McAllister was charged with two runs on three hits, finishing with seven strikeouts and one walk in his 5 1/3 innings.
In the ninth inning, the Marlins attempted a rally against closer Chris Perez, squeezing one run across on a pinch-hit single from Greg Dobbs. With two outs and runners on second and third base, Placido Polanco sent a pitch from Perez into left-center field, but Bourn chased it down to avoid a late-inning collapse.
"The one person I didn't want to see come in to hit was Polanco," Bourn said with a laugh. "That dude, he knows how to put the bat on the ball. That's going to happen. You know that's going to happen. So you're just hoping it's at somebody, and I was able to make the catch."
Bourn's speed came into play on the game-ending grab, and it figured prominently into Cleveland's early offensive showing, too.
In the first and third frames, Bourn led off with a single before stealing second base. The first time around, he eventually crossed the plate on a single to right field off the bat of Kipnis. In the third, Bourn moved to third base on a wild pitch from Turner (six innings, two runs allowed) and scored when Brantly made an errant throw that skipped into left field.
Asked if he was happy to be back in the National League, Bourn let out a laugh.
"I have a little bit more familiarity to it," he said. "I was just able to take advantage of getting some good jumps and being able to capitalize on them."
Kipnis was more to the point.
"Speed was the key today," he said. "That won us the game."
Jordan Bastian is a reporter for MLB.com. Read his blog, Major League Bastian, and follow him on Twitter @MLBastian. This story was not subject to the approval of Major League Baseball or its clubs.