Jeter out of lineup for two games with leg issues
Jeter out of lineup for two games with leg issues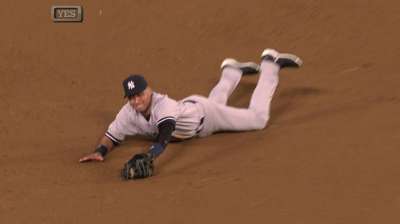 SAN DIEGO -- Derek Jeter will not appear in the Yankees' starting lineup until at least Monday, as the captain hopes an achy right calf and leg will calm down enough to permit him to avoid the disabled list.
Manager Joe Girardi said that Jeter has been dealing with lower-body issues since Monday, after the Yankees arrived in Los Angeles to prepare for a two-game series with the Dodgers. Jeter played shortstop in both of those games.
"He's been battling this leg problem. He's also battling a little calf problem," Girardi said. "I'm going to give him the next two days off, see where we're at on Monday, hopefully get him back in there on Monday."
Girardi said that he did not know if Jeter's newest injury is related to the Grade 1 quadriceps strain that sent him to the disabled list last month. Jeter was receiving treatment and did not speak to reporters before Saturday's game.
"He played on Sunday, and Sunday he did not feel anything," Girardi said. "It was when he woke up on Monday that he talked about he felt a little something there.
"Today, he said it's the best it's felt in the few days. He thought it was better, but if it is going in the right direction, I want to keep him going in the right direction and get him back 100 percent."
The Yankees have been proceeding cautiously with Jeter, who has been limited to just five big league games this season. Jeter said in Los Angeles that he has been hearing "little whispers coming in my head immediately" telling him not to run full speed on ground balls.
"It's hard. It's difficult, but I try to look at the big picture," Jeter said then. "I'm trying to do what I'm told. I don't want to do anything stupid, but it's very difficult when your natural reaction is to run as hard as you can and you can't. It's difficult, but that won't last long."
Girardi said that he might use Jeter as a pinch-hitter against the Padres, but that he would probably have to pinch-run for him if he got on base. Having the designated hitter back in play on Monday against the White Sox in Chicago could help Jeter's case to avoid a third stint on the disabled list this season.
"I'm definitely giving it two days. My hope is that we don't have to DL him," Girardi said. "My goal is to get him back in there on Monday, get him in there against the White Sox and see how he does. ... Jeet is as tough as it gets. He's going to try to push through everything he can push through."
Bryan Hoch is a reporter for MLB.com. Follow him on Twitter @bryanhoch and read his MLBlog, Bombers Beat. This story was not subject to the approval of Major League Baseball or its clubs.