Ross' early brilliance turns into defeat vs. Yanks
Ross' early brilliance turns into defeat vs. Yanks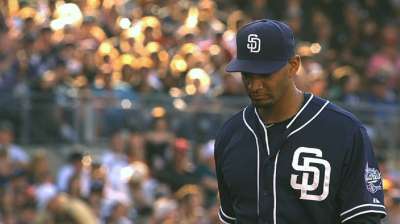 SAN DIEGO -- The Padres have started to put together some pieces of their future starting rotation over the past few days.
They already have promising young starters in Andrew Cashner and Cory Luebke and they traded for Ian Kennedy before the non-waiver Trade Deadline on Wednesday.
Now after Saturday night's start against the Yankees, it seems as though Tyson Ross could become a mainstay in the rotation. Ross, 26, finished with a career-high nine strikeouts and didn't allow a hit until the fifth inning, but he lost a 3-0 pitchers' duel to Yankees starter Ivan Nova in front of a sellout crowd of 44,184 fans at Petco Park.
The two teams have spilt the first two games of this three-game series, both in front of sellout crowds, with the series finale on Sunday.
Even without the result they wanted, the Padres have reason to be optimistic about Ross. His only mistake of the game came on a fastball that Curtis Granderson deposited for a two-run home run in the seventh inning. Other than that, he stifled the Yankees' offense and allowed just three hits and three walks along with two runs in six-plus innings.
Since returning to the rotation on July 23, Ross is 2-1 with a 1.35 ERA in three starts.
"We're excited about Tyson," said Padres manager Bud Black. "We were excited about him in the offseason. We saw him in Spring Training and we were excited about him. So these last two outings should give him a great boost of confidence moving forward here the next couple months."
In his last outing, Ross threw a career-high eight shutout innings and allowed just three hits as he led the Padres to a 1-0 victory over the D-backs. He struck out seven batters in that game, and then eclipsed that number by the fifth inning on Saturday.
At one point, he struck out five consecutive Yankees. Ross has leaned on his slider and his fastball during his first few starts, but mixed in his changeup more on Saturday.
"It's coming along," Ross said. "I'm starting to get a little bit more comfortable with it. Moving forward, it'll be a pitch that'll help me out."
The Padres got runners on base early in the game, but Nova worked his way out of a first-and-third jam in the first inning, then gave up a leadoff double in the second before settling down to retire the next 15 consecutive batters.
San Diego's next hit came with a leadoff double from Will Venable to start the seventh, before Nova worked his way out of trouble again.
"He's got good stuff, he's really a two-pitch guy [fastball, curveball]," Venable said. "But he had good action on the curve below the strike zone. His fastball had good sinking action to it."
The Yankees broke the scoreless tie in the seventh. Alfonso Soriano got things started with a bloop single to center before Granderson took advantage of a fastball over the plate.
The runs snapped Ross' streak of 17 scoreless innings -- the longest by a Padres pitcher this season. He walked the next two batters before his day was done.
Nova has been one of the Yankees' most consistent pitchers recently. Over his last four starts prior to Saturday, he was 2-2 with a 2.03 ERA and went at least seven innings in each of them.
In his first career start against the Padres, he worked seven scoreless innings and allowed just four hits while striking out eight.
"He's been really good since he's come back," said Yankees manager Joe Girardi. "The big thing is that he stays consistent with his fastball. When he does, it just makes everything else that much more effective."
The Yankees tacked on a run in the ninth inning on an RBI single by Jayson Nix off Padres reliever Dale Thayer. New York's bullpen pitched two scoreless innings to finish the game, including a perfect ninth from closer Mariano Rivera, who is retiring at the end of the season.
He received a standing ovation as he came into the game and then sealed his 35th save in his first career appearance at Petco Park.
Jamal Collier is an associate reporter for MLB.com. This story was not subject to the approval of Major League Baseball or its clubs.