Porter urges team to pay attention to details
Porter urges team to pay attention to details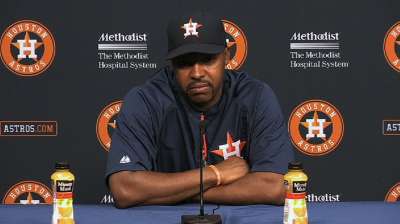 MINNEAPOLIS -- Astros manager Bo Porter has spoken more than once about the 2013 season being a learning experience for his team, which is the youngest in the Majors. And the learning just doesn't take place on the field.
Porter has stressed to his players to not only learn from their own mistakes, but other people's mistakes as well.
"Watch the other team's players, watch the game," he said.
Porter says players nowadays grew up in a "SportsCenter generation," meaning they were fed highlights of baseball games, but didn't always get to see the work that went into the success.
"When I was coming up, you literally had to watch the game to find out what happened," he said. "Now, you see a guy hit a home run, but they don't show you the 1-2 breaking ball he took, the 2-2 changeup he took to get himself to the 3-2 pitch to hit the home run."
Porter has urged players to pay more attention to the details in their pursuit of success.
"Watch the game in its entirety, see what's going on, and you'll be amazed how you can learn and not wait for someone else to teach it to you," he said.
Brian McTaggart is a reporter for MLB.com and writes an MLBlog, Tag's Lines. Follow @brianmctaggart on Twitter. This story was not subject to the approval of Major League Baseball or its clubs.