Spacious Marlins Park outfield tricky for Indians
Spacious Marlins Park outfield tricky for Indians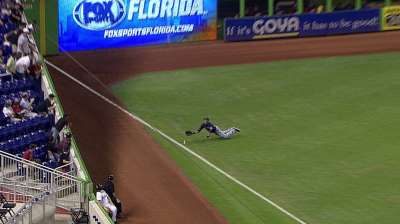 MIAMI -- Michael Brantley ran as hard as he could, and then he ran some more. In the first inning Friday night, the Indians left fielder learned just how spacious the outfield is at Marlins Park.
The flared fly ball off the bat of Logan Morrison tailed down the left-field line, where the baseball dropped in just beyond the glove of a diving Brantley. That helped Miami to its first run, which proved to be plenty considering Cleveland dropped a 10-0 decision.
"I felt like I was never going to get there," Brantley said. "And I was actually playing a little over toward the line. But it's such a big outfield, and that ball was just fading away from me. It was well placed, I guess you could say."
Entering Saturday's game, Marlins Park had produced the fewest home runs (62) in the Major Leagues while generating the most triples (34). Friday's game put those statistics on full display: neither team launched a home run, but the Marlins collected a pair of three-base hits.
The Indians boast one of baseball's faster outfield trios in Brantley, Michael Bourn (center field) and Drew Stubbs (right field). The fact that they struggled to chase down fly balls Friday night showed just how big the outfield plays in Miami.
In the third inning Friday, Stubbs did all he could to snare a bloop hit to shallow right, but the baseball popped out of his glove as he made a sliding catch attempt. Rookie shortstop Adeiny Hechavarria wound up with an unlikely double.
"If our guys don't get to them, probably nobody will," Indians manager Terry Francona said. "Brantley made a great effort on the one, but it's a big outfield. It's a little quirky, which is OK. I'm sure you could see there'd be some triples and, if you're not careful, some inside-the-park homers."
Brantley said his biggest issue was positioning himself prior to each pitch.
"This felt like the biggest outfield I've ever been in," Brantley said. "You kind of stand out there, and you look around, you're not going run into too many objects, that's for sure. You have a lot of room to roam. But, at the same time, you kind of feel out of place a little bit. You're kind of out in the middle of nowhere.
"You usually have a good feel of where you want to be. Positioning was difficult for me. One, I'd never been here. Two, it's such a big outfield. And it also plays quick on the ground -- short grass that plays quick. So you kind of have to hold all those thoughts in your head and kind of adjust your route accordingly."
Jordan Bastian is a reporter for MLB.com. Read his blog, Major League Bastian, and follow him on Twitter @MLBastian. This story was not subject to the approval of Major League Baseball or its clubs.